Tailwind is an ever-evolving scheduling software and an official partner of Instagram and Pinterest. Tailwind for Instagram features is the best in class and helpful for small business to enterprise level.
With over 500k+ brands using Tailwind make it the best scheduling software in the market.
The Tailwind team keeps on discovering new features to equipped their tool to help their users and small business crush it on Instagram and Pinterest.
Today it is the necessity of having an Instagram page for every business because the Instagram audience is hyper-targeted and engaged.
To stay at the top of your competitors, you need to have a proper and engaging Instagram posting schedule.
But without planning posting blindly can be a waste of your time.
To help you on the way and having a proper Instagram posting strategy, the Tailwind team has introduced some of the unique features recently.
Let's explore the new features,
Tailwind For Instagram Features
To make your Instagram profile super elegant and organized Tailwind has introduced so many features in the past this also includes Tailwind Hashtag finder.
(when you sign up with any of the Tailwind links from the post, I'll get a sweet compensation with no extra cost to you, and I would be thankful to you)
Now there are some more features added in your Tailwind Dashboard recently.
Before getting into the details, let me give you the overview of new Tailwind for Instagram features:
Tailwind Content Plan for Instagram Posts
Tailwind Visual Plan for Instagram
Tailwind Unsplash Integration for Free Stock photos
A lot of other features
Grab a Tailwind free trial, and schedule 30 Instagram posts to test the tool yourself. (No credit card required to test free trial)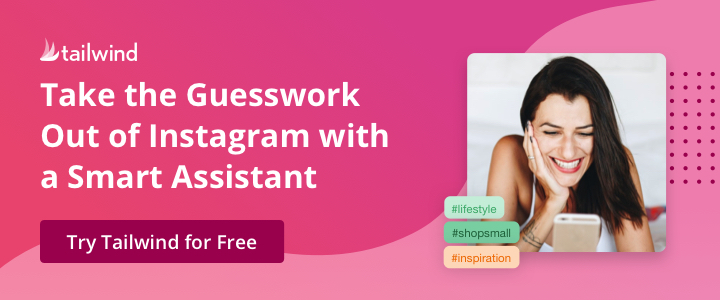 Now let's getting into the detail of each features and find out what's there for you,
Tailwind Content Planner for Instagram
With a lot of business tasks that needs accomplishment, the most underrated one is posting on social media and engaging the audience.
Because you have to dedicate a good chunk of your valuable time to plan and create engaging posts. You have to make sure when and what to post.
Yet planning the schedule, creating posts, and writing captions are the time consuming but these are must to do tasks for Instagram marketing.
What is tailwind Content Planner?
Tailwind has designed this feature to offer you the best content ideas every time, so you never run out of posting on Instagram.
Every business has its own unique content planning that's why you'll find 4 different categories to create a content plan for.
Choose the category out of
I sell online
I provide a service to clients
I have a physical store
I publish content online
See how it works in the image, now click in the Generate plan,
On the next screen, click on the "Customize my plan", you'll see a weekly, recurring planner will be showed here.
Here you can decide on what day, what type of post should be posted on your Instagram profile.
You can choose the type of posts (inspirational, connect, promotional, relate, or educational) from the drop down menu, as shown in the image below-
Once you complete the planner and Save Changes, click on "See my plan in the dashboard"
Here you'll see a complete scheduled recurring planner for week over week.
Now let's move on creating the posts to make it ready to publish, Click on any draft post (as indicated by an arrow in the image above).
When you click on any draft image, you will have a "Draft Guide" come up. Here you can select the post type from the drop-down menu.
Tailwind also suggests the similar posts from Instagram as in the image some inspirational posts are shown.
You will also have "Caption Templates" so you can choose and customize one of them to use in your Instagram post.
Sometime you may need to use "Prompts" in your Insta posts, to help you in this there are tons of Prompts ideas added by the Tailwind team.
Now if you're totally blank with the post ideas and caption templates then Tailwind has just brought you a new feature i.e. Explore Inspirations, for this, there is a button "See Inspiration" upper right corner of your draft posts.
Click on this, and a new window pop up will come on your screen. Here you would have tons of ideas regarding the caption template according to the type of posts (i.e. inspire, educate, promote).
See the below image,
Tailwind has also included more post ideas sections, to keep you consistent and posting regularly.
You would have Curated Examples of Posts, Post prompts for maximum engagement, holidays to post about section to get tons of ideas for posting.
Tailwind Visual Planning for Instagram
So, overall Tailwind has done the phenomenal job when it comes to content planning and posting.
Planning and posting is a different thing and keeping your Instagram 9-grid profile clean and attractive is a different thing and needs another feature.
To supplement your content creation and posting strategy tailwind has introduced a Visual Planning feature to keep your Instagram profile clean and look attractive.
Once you scheduled the posts, you can easily drag and drop the scheduled posts in a 9-grid preview. So you can make sure your feed always looks unique and share the message you want to spread.
Once you drag and drop the posts you can preview the feed that how it would look when the posts get published.
Now onwards, inside the Tailwind Scheduling tab, you'll see the fresh UI and newly added Features while Creating an Instagram post.
Check out the Features indicated in the image below,
With the Tailwind's Smart schedule auto-post you can feel relax because your photos will be posted at the right time (or scheduled time) for the maximum engagement.
Add a location- Posts that have locations added gets more engagement than the posts that don't have. To add your location click on "Add a location"
In the Tailwind's features line, Hashtag Finder is really an awesome feature developed by Tailwind.
It brings you the most relevant and engaging hashtags according to the caption written to get discovered by the right audience.
You can strike on the button "Post hashtag in first comment" to place your hashtags in the first comment automatically by Tailwind.
You can add a clickable link for every individual post from a handful tool smart.bio, developed by Tailwind itself. This tool is proven to increase CTR and traffic to your website or product.
I can't stress enough to recommend You to grab a free trial of Tailwind now. You can enjoy all these features and schedule the first 30 posts on Instagram with this Tailwind Free Trial link. (No credit card required to test free trial)

Tailwind Unsplash Integration
I personally like the integration of Unsplash. Because to design your feed attractive and trying variation in photos you always need to have stock photos.
In order to build an engaging and loyal audience, you should not always post about your business only. The best practice includes the variations in posts and photos.
To bring the variations in posts Unsplash is the best resource to use free photos.
And Tailwind's Unsplash integration makes it easier to grab the right photos without going anywhere.
Wrapping Up -Tailwind for Instagram Features
Undoubtedly, Tailwind is the best and official Instagram Partner to schedule your posts while staying compliant with the Instagram rules.
Using Tailwind can save you a lot of time posting manually.
For in-depth insights and the ability to auto-publish switch your Instagram account to a Business account. Tailwind works better with Instagram Business accounts.
If you're using Tailwind then the new features will be additional features for you to test. But if you are still away from Tailwind then I highly recommend getting a free trial of Tailwind. (no credit card required)

With a Tailwind free trial, you can schedule 30 Instagram posts inside the Tailwind dashboard. You can use all the features including the new features i.e. content planner, visual planner, and Unsplash integration.
Hopefully the Tailwind new features will help your business crush it on Instagram