Do you know how your customer behaves in your eCommerce store? Where they land, where they go, what item do they like most, how many of them abandoned the cart?
The questions are endless.
But the conclusion is if you know the answers to such questions you then you can optimize your store to the most extent and ultimately you can increase your sales and ROI.
To help eCommerce store owners like you Google Analytics has a great feature called "Enhanced eCommerce tracking"
But reading and conclude the data from Google Analytics can be hard for most of the users, This is where MonsterInsights plugin comes as a life savior.
MonsterInsights plugin is the best analytics plugin that provides the GA technical data in a way i.e. simpler and easy to understand.
Let's find out how to enable Enhanced eCommerce Tracking for your WooCommerce store.
How Enhanced eCommerce Tracking can help you
Enabling enhanced tracking into the Google Analytics account gives you the most powerful data about your store.
You get to know about your customer's shopping behavior, checkout behavior, product lists performance and sales performance, etc.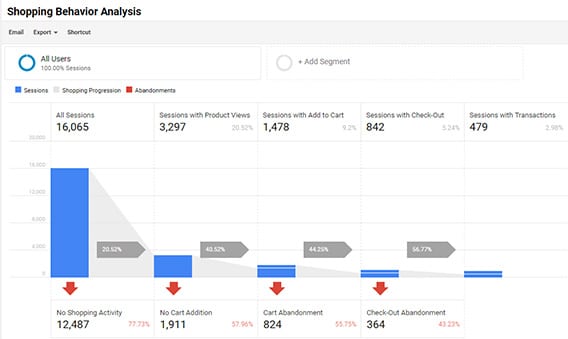 This also gives you the data about the categories and taxonomies related to your products which is a good way to optimize the product listings.
Now you know enabling Enhanced eCommerce Tracking is a must for any eCommerce store.
Let's move to set up this for your store,
How to Set Up Enhanced eCommerce Tracking
Before heading I highly recommend you install MonsterInsights plugin. Once you linked this plugin to your GA account you get all the stats and insights related to your site.
Using MonsterInsights eCommerce addon you can easily enable Enhanced eCommerce for your WooCommerce store and start tracking the data.
With this, you can easily track all your sales, abandoned carts, product listings, coupons, offers, etc.
To view such data you need to activate the eCommerce addon from insights >> addon tab.
Now head over to your Google Analytics account linked to your store. Now click on Admin tab (see the bottom-left side of your GA panel)
Then click on eCommerce Settings >> eCommerce Set-up, here just enable both the features. (As shown in image)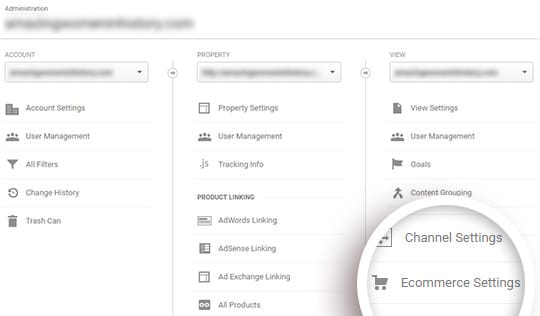 Now,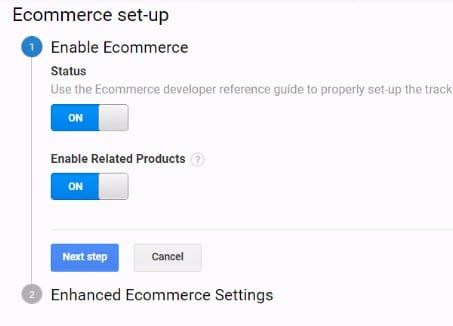 Now come back to your WP dashboard and go to MonsterInsights. Go to "Insights>> Settings" and then select eCommerce from to top menu. Now enable "Use Enhanced eCommerce"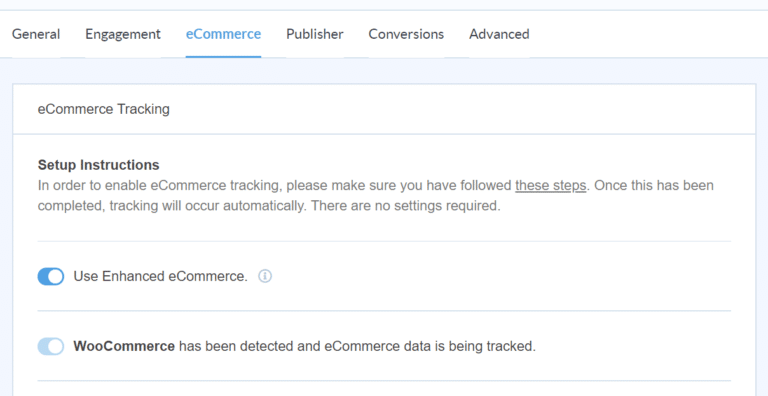 Now, this is it. You have successfully enabled the enhanced tracking for your WooCommerce store.
Soon you'll have all tons of actionable data related to your store, products, and customers. Then you can analyze the data and start optimizing your store and products accordingly.
Now with MonsterInsights 's report section, you can have a complete overview of your store performance. To view this head over to the "Insights>>Reports" section.
If you scroll down then you'll notice MonsterInsights is giving the data about the "Products that are generating most revenue" and also you'll have a report about your customers.
So, you can focus on those products most and list more similar products for maximizing sales.
You'll know the from where your customers are landing on your store, how many of them are converting, and how many of them are left abandoned carts.
From this report you can analyze the traffic sources, so you can better focus on these referrers more.
In total, you have all the actionable data that is required for optimizing your stores and boosting sales.
Wrapping up
Enabling Enhanced tracking for WooCommerce store is easy and must to do.
With MonsterInsights's eCommerce Addon enabled you to have detailed and in-depth stats of your customers, sales, products, offers, etc.
Now you have data in hand go and grow your business. And Come back for more actionable tutorials.
Please share the article. If you have any doubt let me know in the comment section, I'll try to resolve them.
Thanks