The increase in accessing the internet from mobile devices has opened a ton of opportunities for marketers.
Today Almost every website is receiving half of its traffic from mobile devices. This is where a true marketer can leverage the potential of this traffic.
And if your website is also doing good on mobile devices then you must be doing something to convert those visitors into subscribers. If you are not working on it then you are leaving money on the table.
So, what would you do to capture those visitors email?
I suggest you use opt-in forms on mobile devices. If you are already using opt-in forms then I recommend you use Exit intent form.
Mobile Exit Intent form
Mobile exit intent is a kind of an opt-in form that appears on the mobile screen when a visitor is trying to leave your website.
You might not know that you can capture more mobile leads with an Exit-Intent form. By using these form you can convert 2-4% additional subscribers in your list.
To help you and thousands of other marketers OptinMonster has recently introduced a new Mobile Exit Intent feature to capture those leads.
Let's move forward
How does Mobile Exit Intent work?
This Feature is designed with mobile user behavior in mind.
It is obvious that when a user is scrolling back up the web pages on mobile then it is most likely that they want to bring down the address bar to leave the website. Or sometimes they tap on the back button directly.
This is the moment you can capture their emails by offering something valuable through an opt-in form.
OptinMonster's new mobile exit intent feature can be a great tool to get the task done.
Every time when it is detected that the screen is scrolled up the exit intent pop up will come on the screen.
Mobile Exit Intent Features
Scroll UP Trigger
When a mobile user scrolling up on your website page it is a huge sign that the user is about to leave the site. This is the best time to capture your visitor's attention.
You can set the Exit Intent® Sensitivity of either Low or Medium inside the OptinMonster's dashboard when you log in.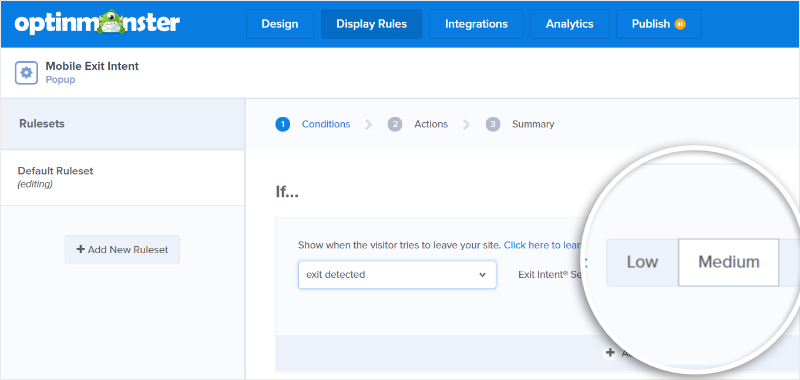 Back Button Trigger
If the site visitor presses the back button on the site it means the visitor is going to leave the site.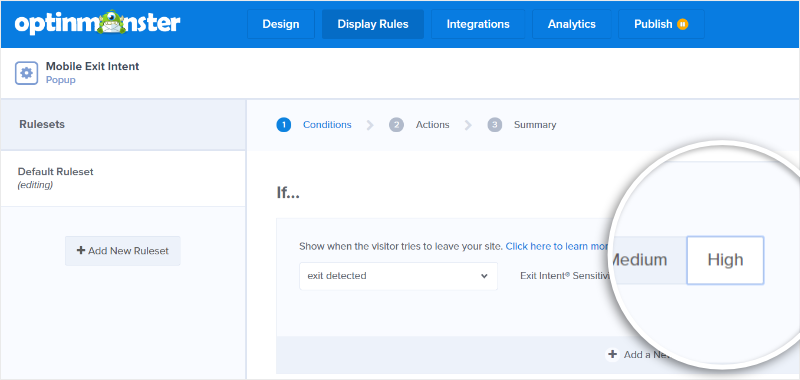 To keep those people around you can grab their attention with the Opt-in forms. Mobile Exit-Intent is triggered by the back button when you switch from medium to High sensitivity inside the scroll up trigger dashboard.
How The Feature will looks in your Site
See how the Mobile Exit-Intent feature looks in your mobile pages when you install it.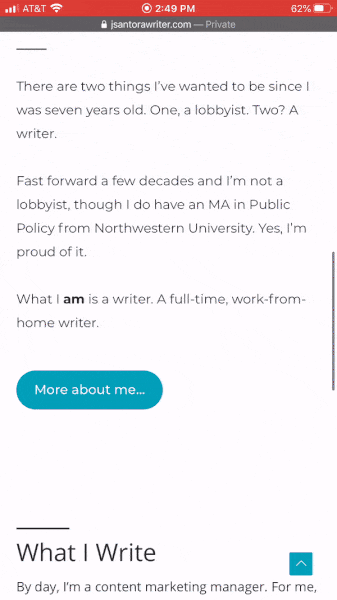 As you can see how it works when users scroll up the page.
Give It A Try To Capture More Leads
It's very important to convert your visitors into subscribers. Because they can be a potential buyer of your products. But once a visitor leaves the site a very few of them will come again.
So to stick them around you need to have them sign up to your opt-in forms before they leave your website.
OptinMonster's exit-intent technology detects visitor behavior and triggered the opt-in forms at the right moment. Which increases the probability of getting visitors converted.
The Exit-Intent feature helps you to convert an additional 2–4% of your visitors into email subscribers and paying customers.
You Should Definitely Try It For:
Boosting sales
Building your email list
Build a relationship with the site's visitor
Increasing revenue from affiliate marketing
Converting would-be abandoned carts
…and so much more
For growing your online business you should definitely capture your visitor's email.
This is all possible with OptinMonster's various features including Mobile Exit Intent. Join OptinMonster now, you'll be amazed by using it.
If you use this OptinMonster link to sign up then a portion of this sale will benefit the charity No Kid Hunger also you'll enjoy 30% off on your billing.
Don't forget to use coupon code "KIDS" to avail 30% OFFon your billing.
Tuesday, May 12, 2020, kicks off a HUGE sale at OptinMonster for a good cause. A portion of every sale will benefit the charity No Kid Hungry (https://nokidhungry.com).
OptinMonster Tool Interface
Here are some features that make Mobile Exit-Intent stands out from another tool:
Time On Page: Show your message to the visitor after a specific time.
Targeting: You can show your message to selected posts and page and also you want the entire site.
Exit Intent: With the help of this feature you can show it when he tries to exit your site.
Geo-Location: Show it when a visitor comes from a specific location on the earth.
New Visitor: Show when a new visitor comes on your site.
Returning Visitor: This feature will very helpful for retargeting your visitor to convert it well.
MonsterLink: This will show when the user clicks on a specific link, image, or button.
Referral Source: show your message when users come from a specific traffic source.
And also you can boost your sales or leads with OptinMonster's Mobile Exit-Intent tool features such as by knowing your visitor's behavior.
Hope this post proven helpful for you.