Do you want to know the number of visitors that download your files from your website? If yes, think no further; MonsterInsights is the best bet. With Google Analytics, MonsterInsights can accurately track a site's file downloads.
Before diving into it let me tell you the benefits of tracking files' downloads,
Think of, are you offering any downloadable resources to your site's visitors? If so, you need to know whether the files are downloaded.
It should be noted that Google Analytics does not allow automatic tracking of file downloads. That is why it's necessary to have MonsterInsights.
But you might ask now, what are the benefits of tracking file downloads? They include;
Discovering the popularity of the downloadable resources
Discover whether you should offer more of the content or the entire exercise is a waste of your precious time.
You are saving your money and time by producing only the downloads that are appealing to your audience.
How to track your site's file downloads?
File Download Tracking with MonsterInsights
First things first, using MonsterInsights set Google Analytics in WordPress.
Once you have set up, the file downloading tracking automatically will be enabled, and instantly, they will start to track the events. But the good thing with the entire exercise is that you don't have to do any configurations; MonsterInsights will handle everything.
In Google Analytics, event tracking is used to measure users' interactions with the content, such as video plays, mobile and clicks, and downloads.
Utilize more file extensions in tracking your downloads
As mentioned above, MonsterInsights will let the site's owner track downloads by following multiple file extensions such as pdf, Xls, Docx, xlsx, doc, zip, and others. But also, it's allowed to add more attachments to the track if you want.
To add the file extension in the MonsterInsights is very straightforward.
Just go to Insights, click settings. Next, at the top of the menu, select Engagement, and then scroll the menu down to the File Downloads.

How to View File Downloads in WordPress
As things stand, if you are following the process keenly, you already have the tracking in place. The next step is to view the report of your top downloads, and the following steps will make work easier for you;
First, Navigate to Insights » Report » Publishers Report.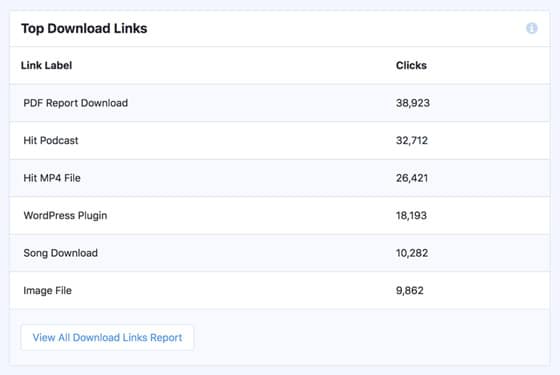 Next, to see the downloads, scroll down. The report will then provide you the most downloaded links from your site.
How can you view file downloads in Google Analytics?
For one to view file downloads, all that is required is to log into the Google Analytics account and then select the site where you would like to track the file downloads.
If for or instance, you are tracking your downloads as pageviews, you will find that all the download reports are in All Pages. And such kind of reports is accessed via navigating to Behaviour » Site Content » All Pages.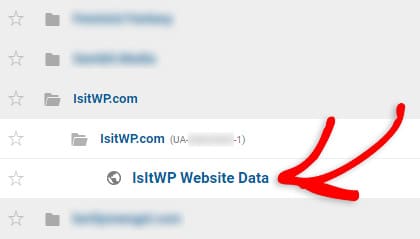 If the downloading tracking is enabled as events, you will see all your downloads' data in the event report. And these categories of the report can be accessed by navigating to Behavior » Events that are found at the left panel. Here you will come across the following four conditions;
Overview: This provides you with a summary of your data's top events.
Top Events: Here, you will be shown the list of the elements that keep your visitors glued to your sites.
Pages: this section will show you the list of pages where the downloadable resources are hosted.
Events Flow: the report will show you the events' flow; hence you will discover which events are more engaging to your visitors.
Final thoughts
If this guide is followed appropriately, will automatically enable you to track your file downloads. Just read and then implement it. You're set to go.
I recommend install MonsterInsights and strat tracking file downloads and gradually you'll have data about what type of content your audience loves more. And using that data you can further improve your conversions and ultimately ROI.