Most bloggers and website owners do send automated emails to their readers or customers. This is usually happens when a user contacts you via contact form or fill out an enquiry form.
If they fill out such forms then they will receive a confirmation email about their form filling.
Also, sometimes you manually send some emails to your specific users for certain reasons. (This is common if you have an eCommerce site)
But how do you track whether the email you sent is delivered or not, and if delivered then to the right person or to the other one?
This is why it becomes critical to keep a log of emails you send often from your site.
Thankfully we have a better solution today in the form of WP Mail SMTP offered by the WPForms team.
Let's find out what WP Mail SMTP is and how it can help you in terms of keeping an email log.
What is WP Mail SMTP is?
WP Mail SMTP is an email log and delivery WordPress plugin helping thousands of website owners by logging their emails.
The plugin is offered by WPForms world's best WordPress forms plugin.
WP Mail SMTP can track and keep a log of all the emails your site sends out to your users and customers.
With the help of this plugin you can have detailed data about the emails that sends out like you can have time and date, to whom the email was sent, and for what subject.
You can even make sure the emails are delivering to the right person in your team or in your customer base.
Also, there will be delivery report for each email sent, so you can live peacefully by seeing that your automation is working perfectly.
So, there are a bunch of benefits that WP Mail SMTP offers. Now let's see how to set up this for your website.
Step 1: Install & Activate the WP Mail SMTP plugin
First thing first, make sure you have installed and activated the plugin, if you want help in setup then the WP Mail SMTP has a premium service known as "White Glove Setup" that you can request for.
Step 2: Enable email logs
After installation, to start keeping logs you need to enable the email log function inside WP Mail SMTP.
For this head over to WP Mail SMTP settings in your WordPress dashboard. Now locate the Email Log option from the top menu click on that.
Now here you will see an option "Enable Log" just check the box. Doing so will start keeping basic records for emails sent out like date, time, and delivery status.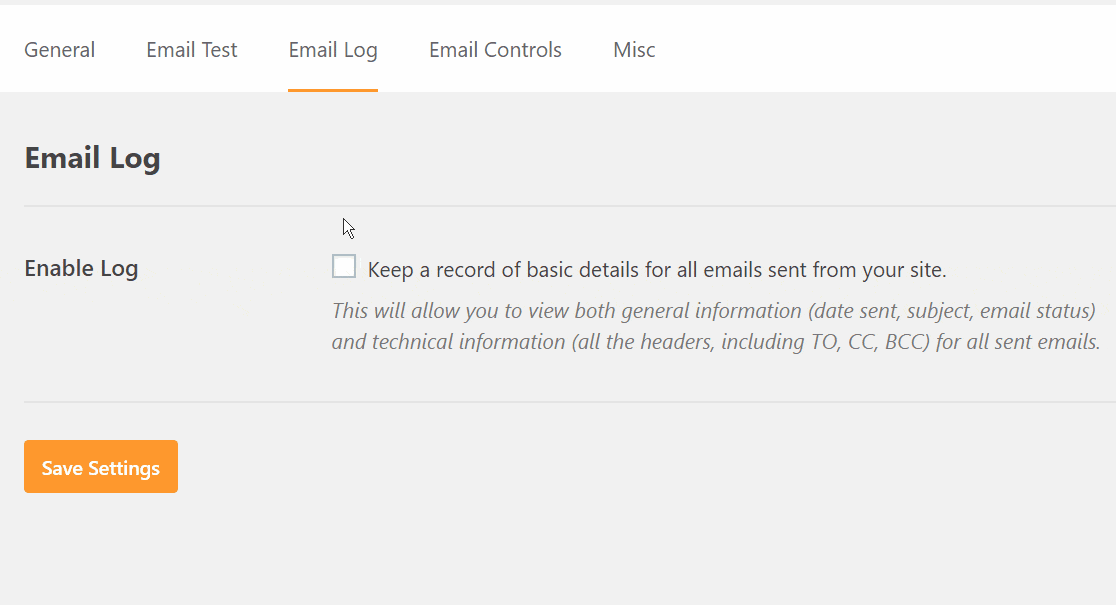 When you check this box there will be another option appears is "Log Email Content".
As this is not the mandatory to check the box, but it totally up to you whether you want to store the content sent via emails or not.
The content will be store in your website's database.
Remember if you send a lot of emails with images, graphics, and products then the database will gradually become large and can make your site load slower.
Now Click on Save Settings.
Step 3: View WordPress Email Logs
The best part of the WP Mail SMTP is you don't have to rush anywhere to see the email logs. Just head over to WP Mail SMTP > Email Log from the left panel of your WordPress Dashboard.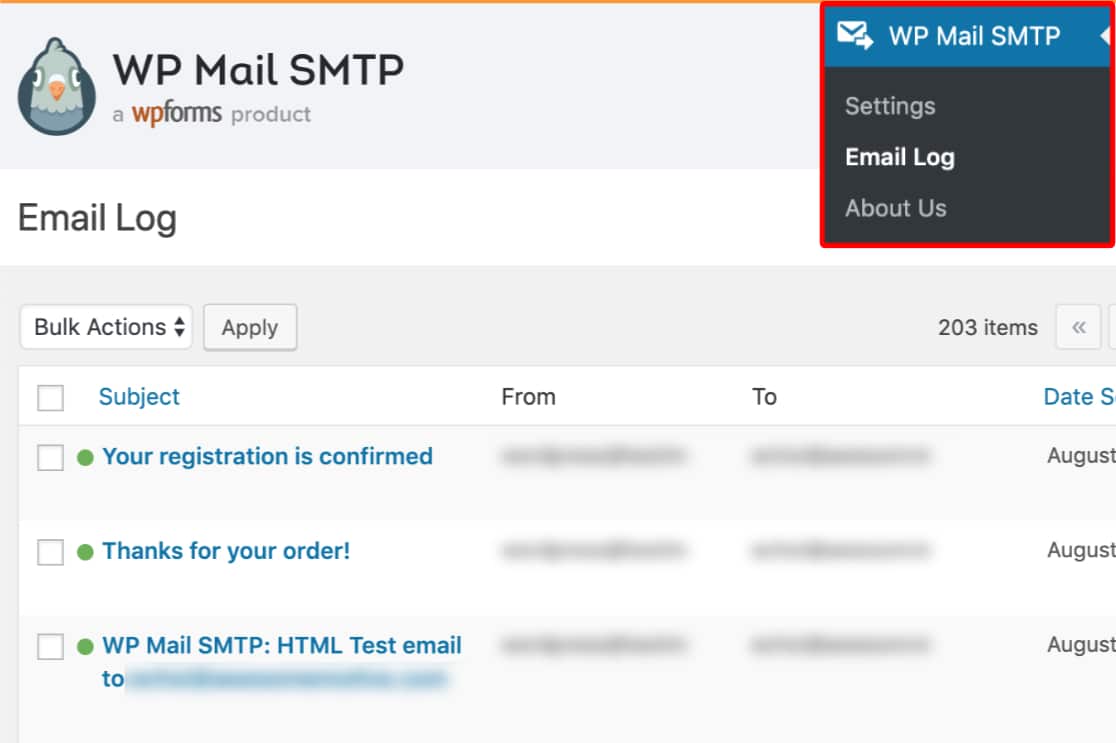 When you click on any subject line then you can see the details about individual emails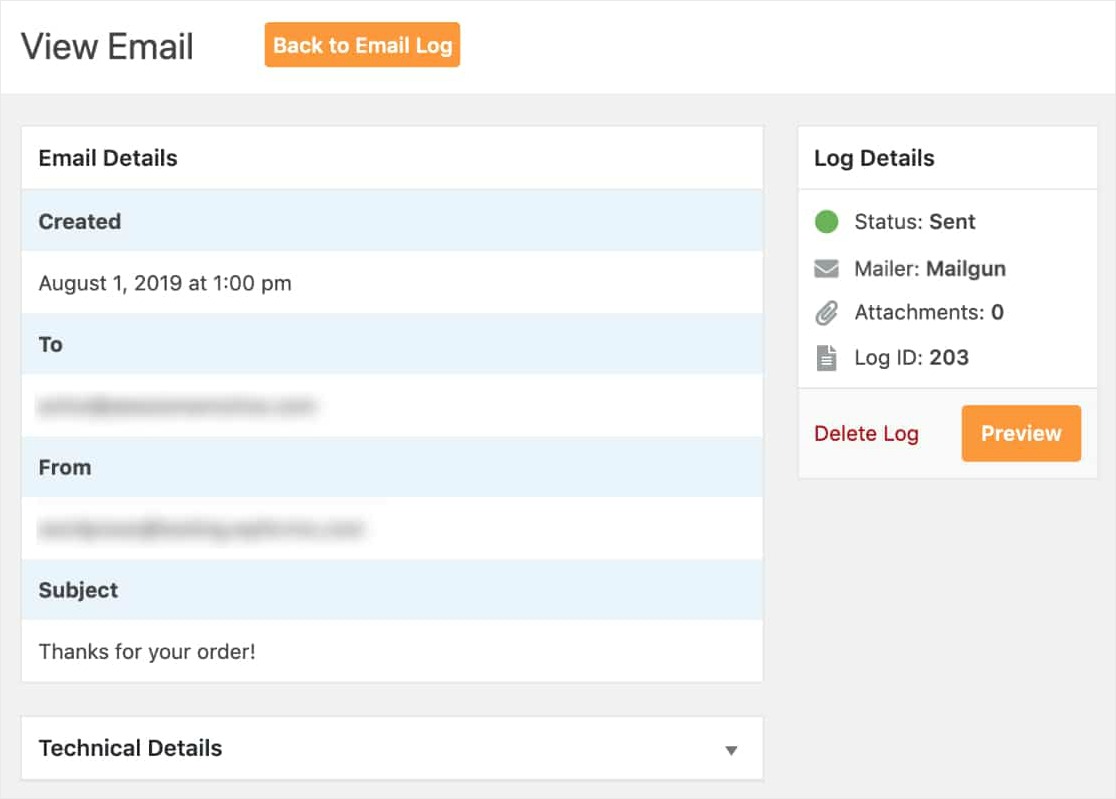 Here you'll see a complete list of all the emails sent out from your site.  To see the log of any particular email just click on the subject line of any email and on the next screen you'll be presented with all the details such as time, date, cc, bcc, delivery status, subject, and technical details.
Wrapping Up
So, in just three steps you can setup WP Mail SMTP plugin and start keeping the email logs of your site. This is really crucial to keep logs of what you or your team member sent to your customers.
Hope this helps, let me know if you have any question.