Do you send emails to your subscribers? Do you know whether they open your email, read it or click the link? If you get to know the results of your emails then you can better carve your email strategies that can benefit your business ultimately.
As a marketer if you send emails to your subscribers then it is highly expected that you'll want to know whether your emails are even opened or not?
WP Mail SMTP is the world's most feature-rich email SMTP plugin that ensures the delivery of the emails to your subscriber's inbox.
Track Link Clicks and Email Open Rates using WP Mail SMTP
If you want to track email open rates and link clicks then make sure you've subscribed to the pro plan (or any paid plan) of the WP Mail SMTP plugin. Having a paid subscription also unveils tons of other features that can make your email marketing easier and fruitful.
Once subscribed, you can start tracking your emails and keep logging in. For this just turn on email logging and enable tracking and you'll begin seeing the results as below

Meaning the plugin WP Mail SMTP will start capturing the open rates and click-through rates of any email you send through your website.
Imagine how beneficial the data could be to strategize your next email campaign.
You can also get more details about individual emails by clicking any of the email (as shown in above image).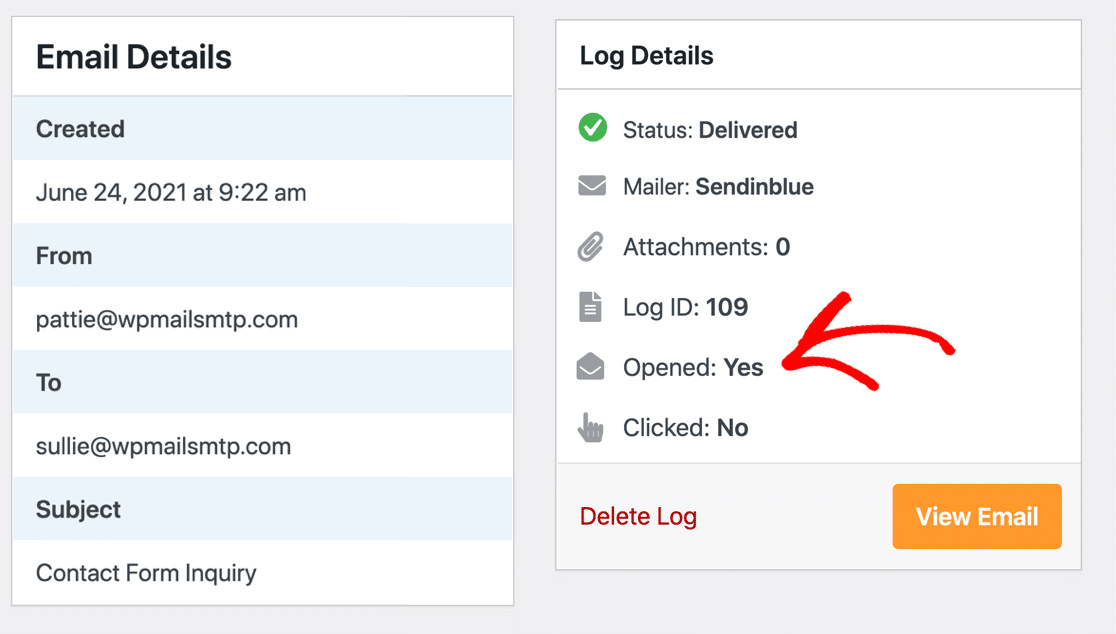 WP Mail SMTP has made email marketing easier, once you start using it you'll eventually find the plugin you can not live without.
Why Track Email Open Rates and Link Clicks
Let me tell you why a marketer like you need to track email open rates and link clicks.
By tracking open rates you come to know about how attractive your subject lines are, whether your emails are delivered correctly or not, if delivered then are your subscribers love to open that or just delete them.

If your emails are opened then what is the average percentage, meaning how many of your subscribers on average love to read your emails. If this is low you can tweak the subject lines that entice your subscribers to open your emails. 

By tracking link clicks you learn how many of your subscribers click the link you shared in your email. This is an important metric as this reveals how interesting your stuff is and if your subscribers love to spend their valuable time by visiting the links.

You can increase the link click rate by offering some freebies on the landing page where you can grab their attention towards your product or services

Open rates and link clicks also tell whether the important emails like purchase, order receives notifications and payments are being sent properly.
WP Mail SMTP features:
With WP Mail SMTP you have a lot more features that you will need for email marketing. Some of the great features that I personally love are:
Keep logging all the emails and attachments you sent from your website.

Ensures the deliverability of your emails to your subscriber's inbox.

Highly controllable email notifications setup.

A wide range of integration with email marketing software and services.
WP Mail SMTP plugin is one of the most recommended and trusted WordPress plugins that ensure your email marketing is done in the right way.
If you're not familiar with it or want a technical hand to set up WP Mail SMTP plugin on your WordPress site then you can ask the team for their White Glove Setup also.
I hope with WP Mail SMTP you can track your email open rates and link clicks from now onwards and leverage the benefit of other features offered by the plugin.
Let me know if you have any doubts and stay tuned for the next blog post.