Do you know Google has updated their tracking system with a new Global Site Tag script i.e. gtag.js
If you're a blogger or running a business and rely mostly upon the tracking details provided by Google Analytics then you must be aware of the tracking system from Google.
This way you can better track and target your end customers and leverage the benefits of the awesomeness of tracking data.
Let me show you what is gtag.js is and how to streamline your tracking backend,
What is gtag.js?
gtag.js is a Javascript code created by Google developers to provide their users a one-stop tracking solution.
When you set up gtag.js analytic codes on your site then it begins sending the tracking data of the visitors to each of Google's marketing tools.
Once you installed the gtag.js on your site then you can send the data to Google Ads, Campaign managers, Video 360 and Google Analytics, etc. for deeper insights and measurement.
How to Install gtag.js?
There is separate documentation crafted by Google itself for configuration of Global tag into  Google Analytics, Ads, Video 360, etc.
More you can find here https://developers.google.com/gtagjs/devguide/snippet
Or you can take the smart root by installing the best Google Analytics WordPress plugin MonsterInsights.
Monsterinsights is a plugin that brings you the Google Analytics data right in your WordPress dashboard with many other awesome features.
Now, when Google has launched its Global tag and set it as their default tracking tag that means all the future releases and updates will be in the form of new gtag.js instead of the old analytics.js code.
Hence MonsterInsights team took a step further and updated the plugin with Global tag support.
Now MonsterInsigts supports gtag.js tracking system and made Global site tag their default tracking code as well, so no need to be worried about any future data interruption from Google Analytics.
But if you're already a Monsterinsights user then still you get the benefit of new Global tracking code support.
Activating Monsterinsights Global Tracking Tag
First of all, install the best WordPress analytics plugin MonsterInsights, and head over to Google Authentication-
Now click on connect MonsterInsights with your Google Analytics account by pressing the blue button as shown in the image.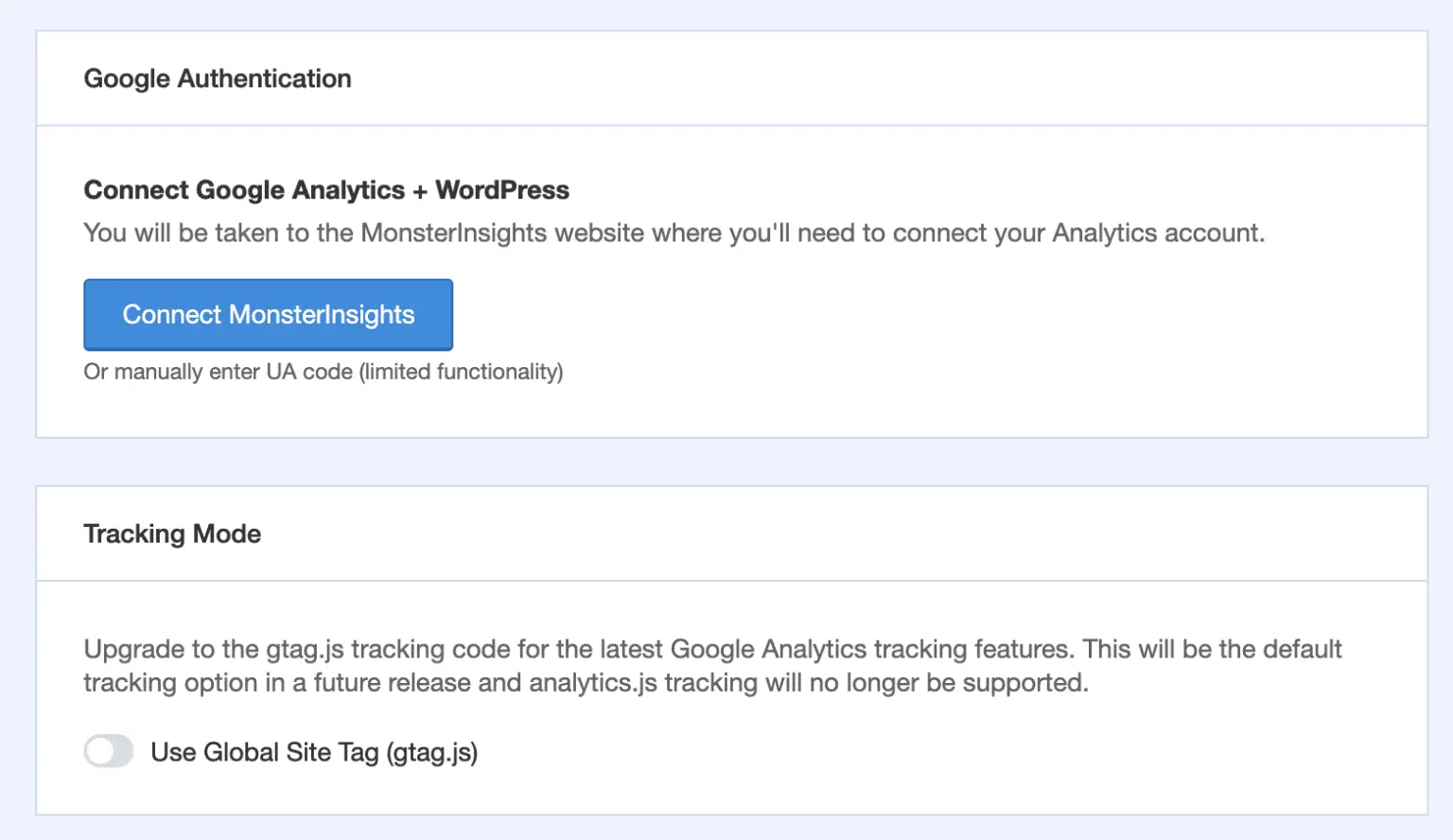 Now toggle on the button in order to use Global Site Tag (gtag.js).
By enabling the gtag.js you can have many benefits of tracking details and will stay compliant with Google's upcoming analytics updates.
Apart from all this, if you have set up any plugin for tracking in the past and using old analytics.js code then MonsterInsights will auto-detect and pass them through the gtag.js code.
So, MonsterInsights will be like set and forget analytic tracking solution for your site.
Wrapping Up
Undoubtedly, MonsterInsights is the best WordPress Google Analytics plugin out there. With tons of customization, feature, and event setup rules, now MonsterInsights supports Google new Global Site tracking code i.e. (gtag.js)
I highly recommend it and ask you to try MonsterInsights asap. More tools and plugins that can help you and simplify your blogging.
Let me know if you have any questions regarding MonsterInsights and its features, I'll be glad to help you.