Ever thought of tracking your site visitors with Google Analytics? The truth is a number of site owners who installed Google Analytics code on their site don't exactly know how to get the most out of data.
They might not know about what things to look for in Google Analytics account and what reports to observe?
If you're facing the same problem, then you must install and activate the world's best Google Analytics plugin i.e. "MonsterInsights".
MonsterInsights lets you bring the complex analytics data in the simplest form directly into your WordPress dashboard.
Why should you use MonsterInsights?
There are numerous benefits of getting MonsterInsight setup on your site. like
Having Google Analytics data in your WordPress dashboard.
In-depth analytics and stats of your site visitors.
You can have search queries that people are searching just below the heading on your site.
Having the right data can yield the right marketing decision for your business.
Can measure and find the source of leads and traffic.
Much more…
In this article, we'll be looking for how you can get to know more about leads for your business.
How to Track your leads source using MonsterInsights
Let's have an example for this. First of all, make sure you have MonsterInsights installed in your WordPress. Now move onto Insights> Reports> Overview section. Now keep scrolling for various kinds of data and demographics of your site visitors. Let's have a look at the data you'll be having
Know more about what type of devices your customers mostly use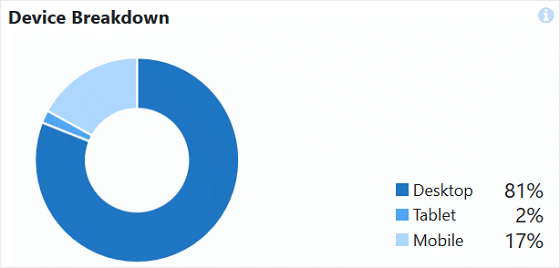 From the above image, we can conclude that Desktop is the main device used by our customers mostly.
You can find the county sources where more of your potential customers reside.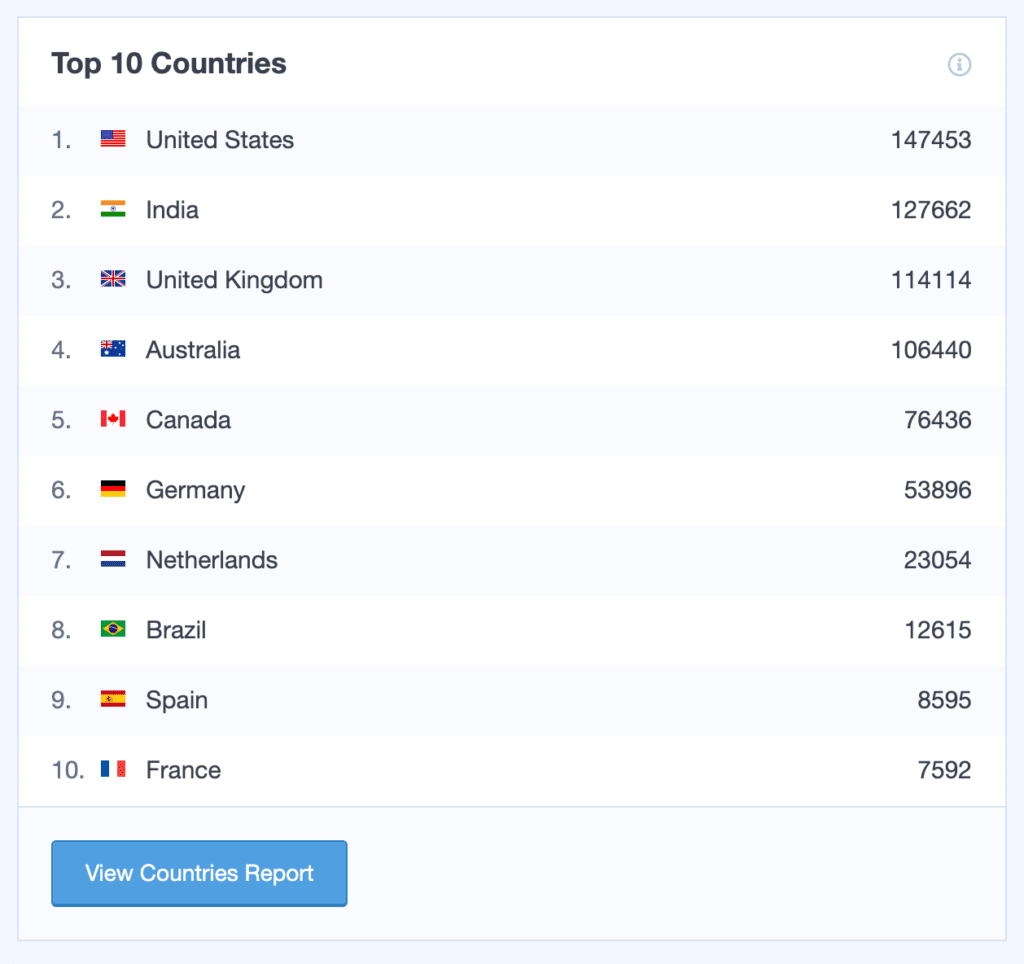 The United States is the country where our customers residing.
And now when you scroll more you'll get to know from where mostly the visitors coming from. Meaning what are the traffic sources.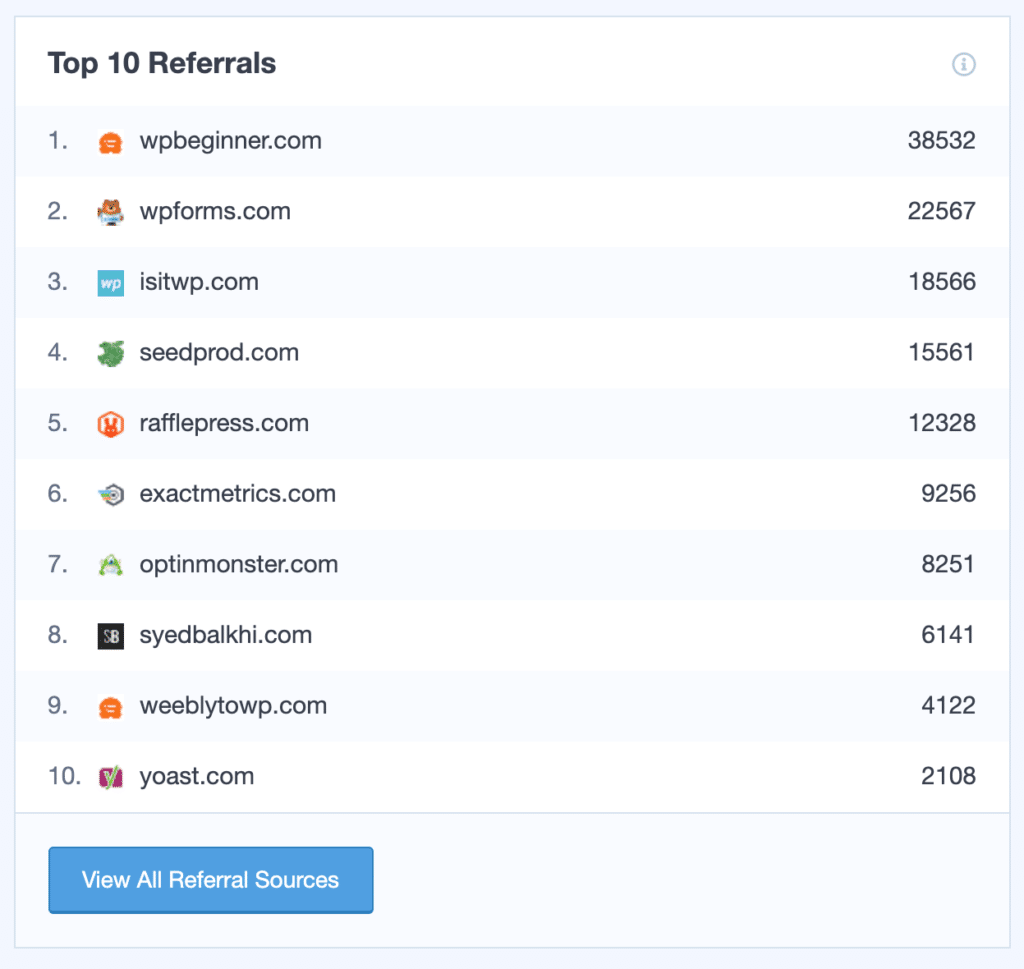 And now WPbeginner.com, WPForms.com are the main traffic sources for this example.
From the above data, we can conclude that our customer is mostly residing in the USA using Desktop and finding our site from WPbeginner and WPForms.
Now look for search console reports. There you'll find out about the keywords that are responsible for sending traffic to your site from search engines.
MonsterInsights can show you the top 50 organic keywords.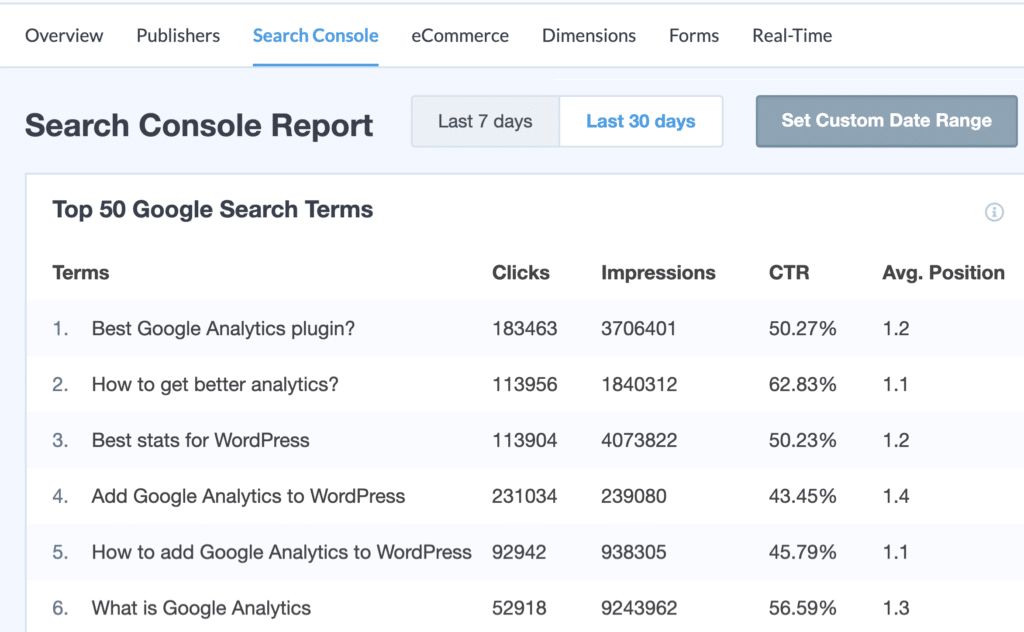 From the above report, you can write more content and build topical authority on your site. Or you can also create more relevant content using similar keywords to attract more traffic.
MonsterInsights have an eCommerce reporting feature also to let you know about the traffic sources, traffic stats, conversion rate, and conversion value. That means you can focus more on marketing on that side where your customers are coming from.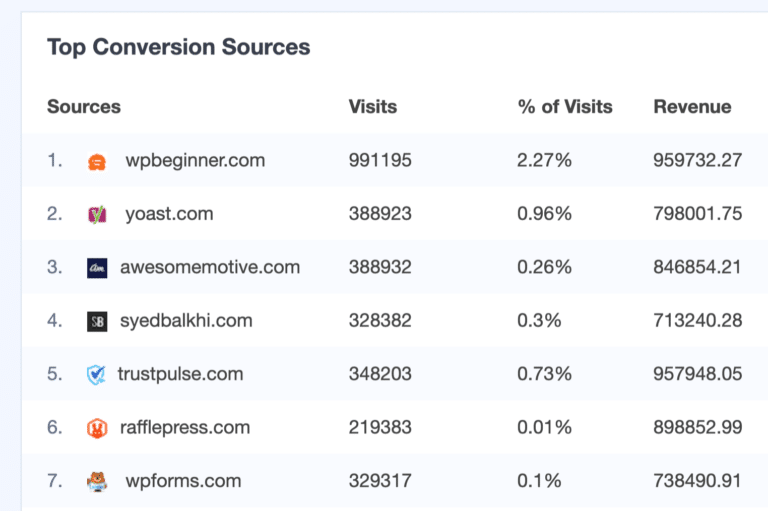 Now you know how to track the website traffic and where to put your marketing efforts to attract more customers using MonsterInsights.
Now, how you'll decide the quality of your leads?
There are some specific events that occur before a customer converts to your site such as:
Look for whether the customers are visiting the important pages before converting. (These pages could be your affiliate pages if you run an affiliate site, or if you run an eCommerce site then add to cart and checkout pages would be the most important pages).
Are your customers spending some time on these pages are they filling in the details or they just jumping off of the pages?
Are your customer using the contact forms or chat buttons on your site to get their doubts cleared?
Wrapping Up
If you have come to this point then I'm sure you have got to know about how important it is to track the leads and source of your site traffic. If you have the right data in your hand you can make the right decisions to grow your business online.
MonsterInsights can help you bring the right analytics and traffic data right into your WordPress dashboard. If you have not installed MonsterInsights yet, I highly recommend using the World's best Google Analytics plugin.