Ever thought of tracking your site visitors with Google Analytics? The truth is a number of site owners who installed Google Analytics code on their site don't exactly know how to get the most out of data.
They might not know about what things to look for in Google Analytics account and what reports to observe?
If you're facing the same problem, then you must install and activate the world's best Google Analytics plugin i.e. "MonsterInsights".
MonsterInsights lets you bring the complex analytics data in the simplest form directly into your WordPress dashboard.
Why should you use MonsterInsights?
There are numerous benefits of getting MonsterInsight set up on your site. like
Having Google Analytics data in your WordPress dashboard.
In-depth analytics and stats of your site visitors.
You can have search queries that people are searching just below the heading on your site.
Having the right data can yield the right marketing decision for your business.
Can measure and find the source of leads and traffic.
Much more…
In this article, we'll be looking for how you can get to know more about leads for your business.
How to Track the source of your leads using MonsterInsights
Let's have an example for this. First of all, make sure you have MonsterInsights installed in your WordPress. Now move onto Insights> Reports> Overview section. Now keep scrolling for various kinds of data and demographics of your site visitors. Let's have a look at the data you'll be having
Know more about what type of devices your customers mostly use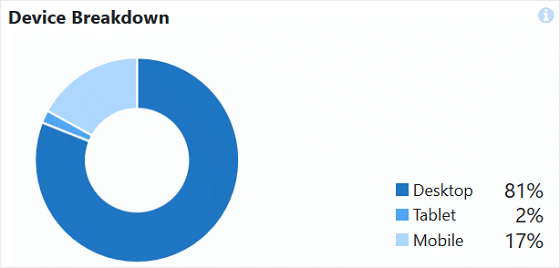 From the above image, we can conclude that Desktop is the main device used by our customers mostly.
You can find the county sources where more of your potential customers reside.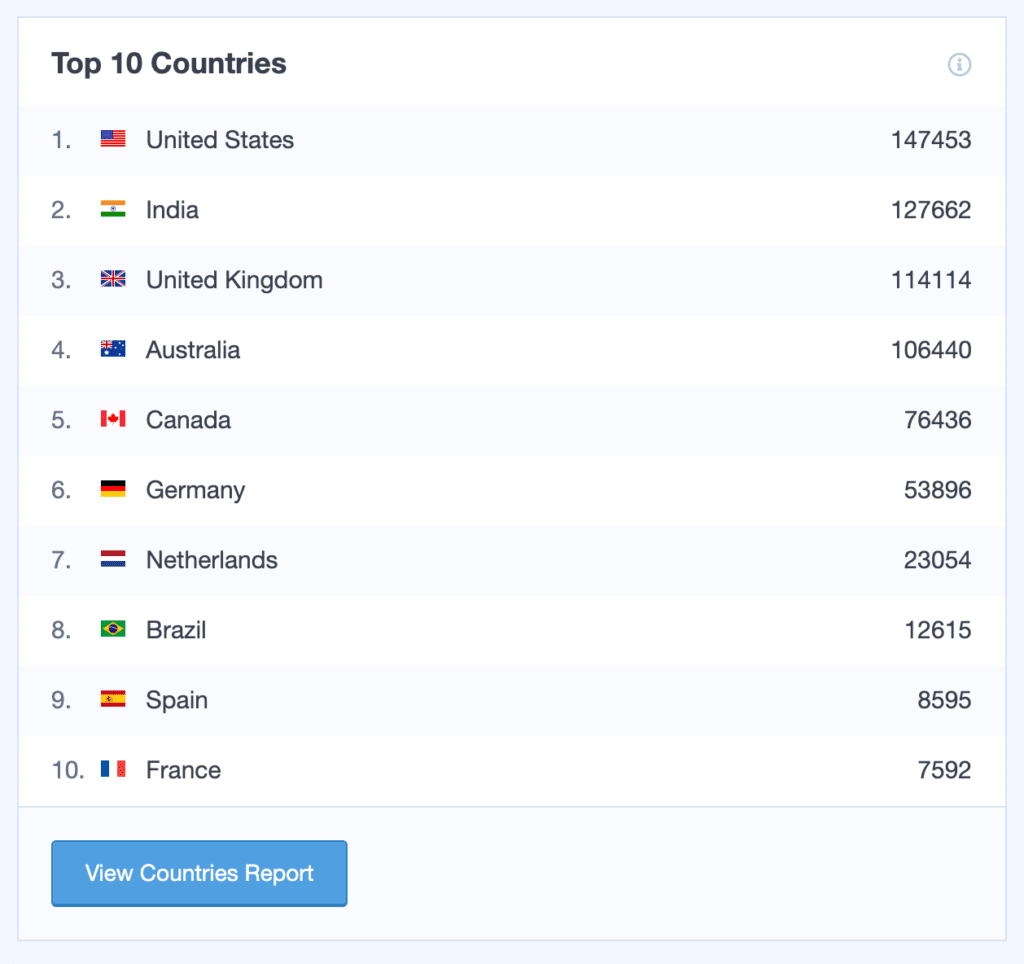 The United States is the country where our customers residing.
And now when you scroll more you'll get to know from where mostly the visitors coming from. Meaning what are the traffic sources.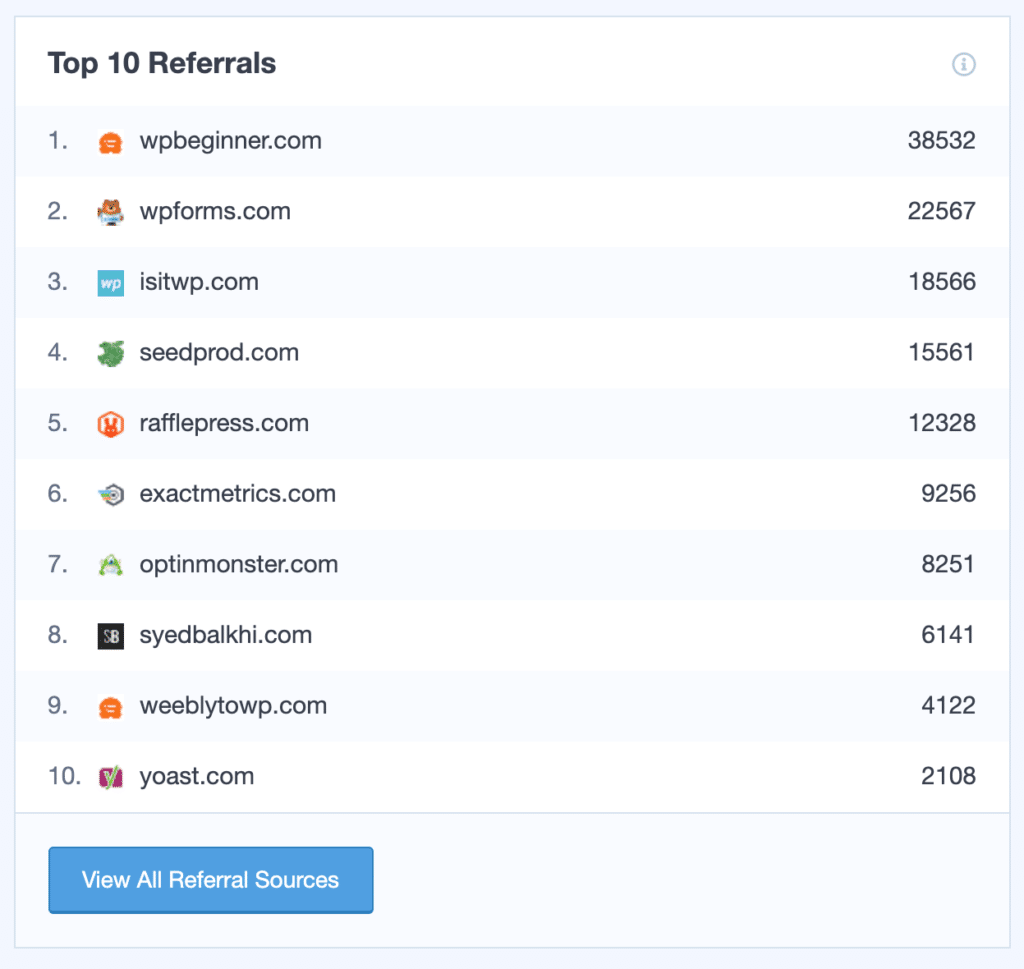 And now WPbeginner.com, WPForms.com are the main traffic sources for this example.
From the above data, we can conclude that our customer is mostly residing in the USA using Desktop and finding our site from WPbeginner and WPForms.
Now look for search console reports. There you'll find out about the keywords that are responsible for sending traffic to your site from search engines.
MonsterInsights can show you the top 50 organic keywords.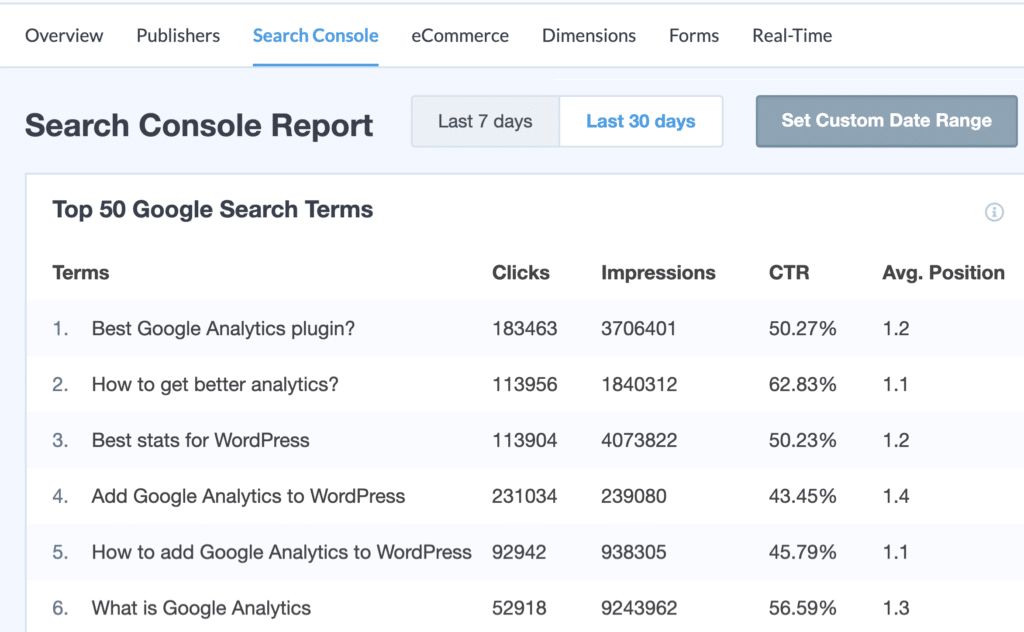 From the above report, you can write more content and build topical authority on your site. Or you can also create more relevant content using similar keywords to attract more traffic.
MonsterInsights have an eCommerce reporting feature also to let you know about the traffic sources, traffic stats, conversion rate, and conversion value. That means you can focus more on marketing on that side where your customers are coming from.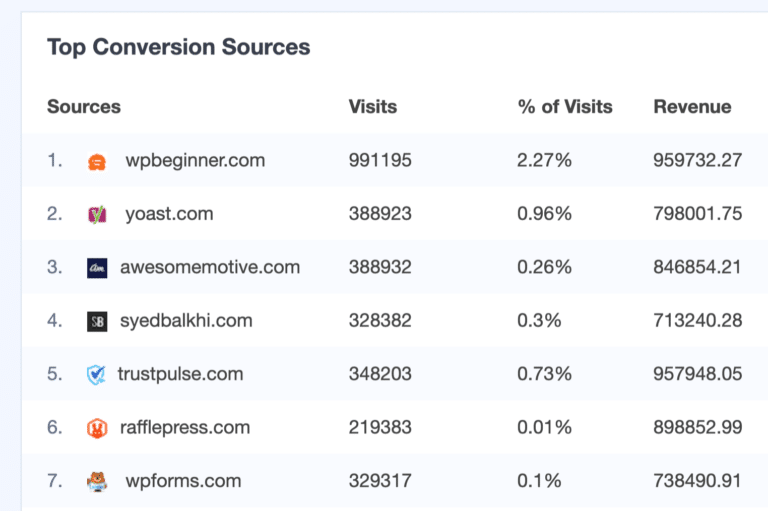 Now you know how to track the website traffic and where to put your marketing efforts to attract more customers using MonsterInsights.
Now, how you'll decide the quality of your leads?
There are some specific events that occur before a customer converts to your site such as:
Look for whether the customers are visiting the important pages before converting. (These pages could be your affiliate pages if you run an affiliate site, or if you run an eCommerce site then add to cart and checkout pages would be the most important pages).
Are your customers spending some time on these pages are they filling in the details or they just jumping off of the pages?
Are your customer using the contact forms or chat buttons on your site to get their doubts cleared?
How to Set Up Form Conversion Tracking in Google Analytics
Do you want to know the number of people that visited your site and filled the form? If that is the case, you're lucky since the article will provide you detailed insights related to tracking form conversations.
It should be noted that lead generation campaign mechanisms should be measured. Otherwise, you're bound to fail if you do not track your lead sources. This is because you will not know which campaign strategy is working and is not working.
The article is going to narrow down on how you will track your form conversions using Google Analytics. Read on!
How to track the form conversion source in Google Analytics?
While it's achievable, tracking form conversions can be a daunting challenge. This is because each time a lead generator form is published, one has to configure a specific goal on the Google Analytics account.
In other words, you will have to place additional tracking codes on your sites. This can be cumbersome and involving, especially if one's lead generation forms are all over the sites and in different places.
But with MonsterInsights, you can effectively set up a form conversion tracker for your sites. And the tracker will automatically track all the form conversions without tampering with the manual goal set up and the code. Below is the procedure of handling MonsterInsights;
Install MonsterInsights Forms addon and then activate it.
After installing the MonsterInsights plugin, tie it up with Google Analytics by going to Insights » Addons. Then click the Install feature that is on under the addon Form.
Once the plugin is installed, the button will indicate Activate. Ensure the addon is active and click the button to activate.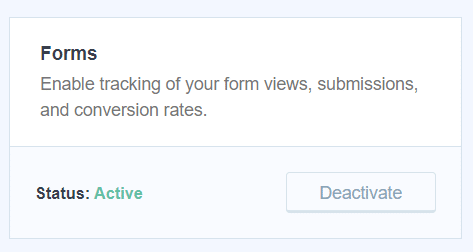 Now MonsterInsight is active, and it will record the data of the forms automatically and display them in the report. The user can see the information through Insights » Reports » Forms.
Every form will have impressions, conversion rates, and conversions.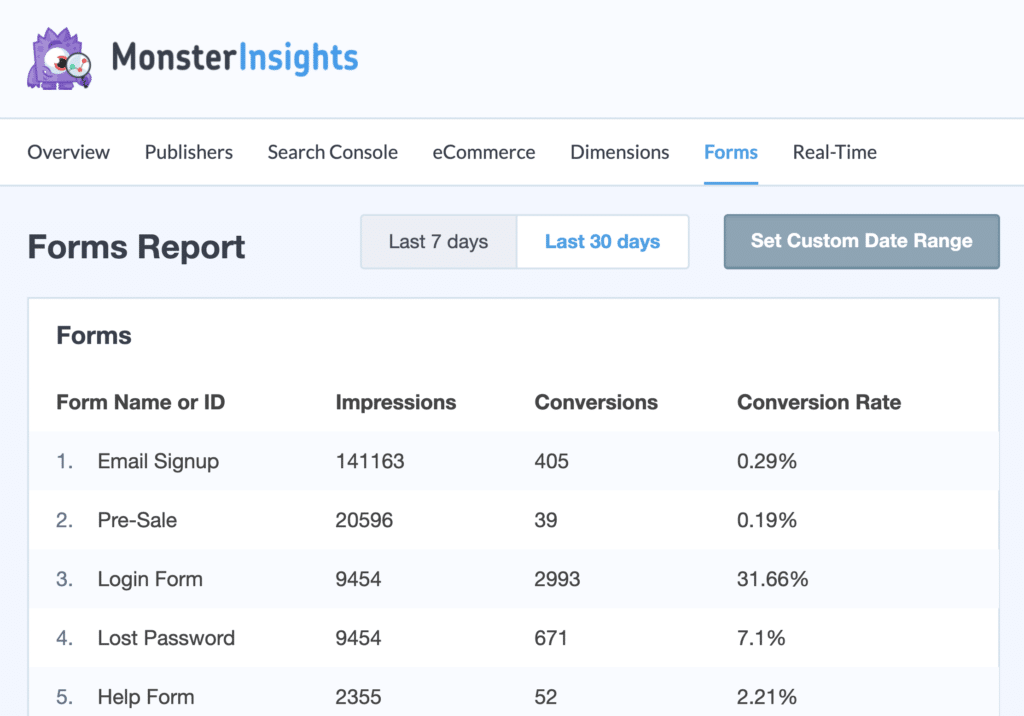 How to track the lead source in Google Analytics?
With the form conversion tracker, the chances are that you already know which source drives the most leads to the site. Tracking lead source needs more than MonsterInsights. Below is the process;
Go to the account of Google Analytics.
Log in and select Behavior » Events » Top Events. This is found on the menu that is located at the left. Then you will see the forms in the event category. Click on the Form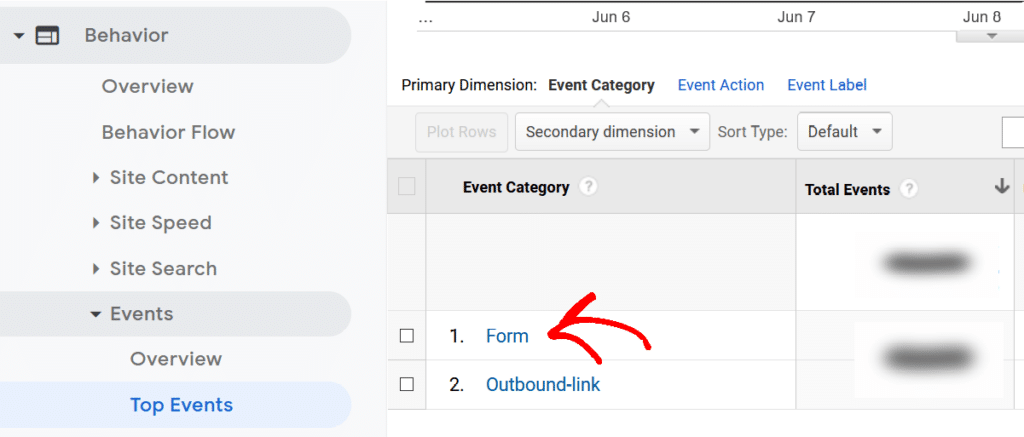 After this, if done rightly, you will see total impressions and conversions, and because you are concerned about the visitors that filled the form, click on the conversions.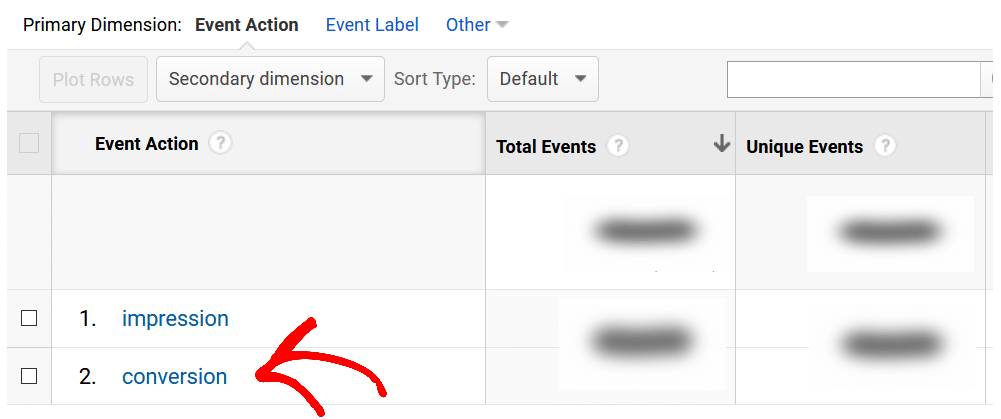 Now you will see the forms that the visitors submit. Click on the specific form; that is the form that you are interested in. This can be a quotation form, contact form, or even any other lead generation form.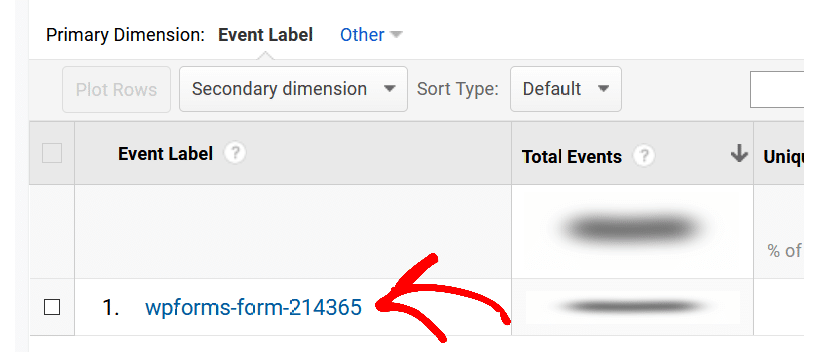 Once the form is selected, the next thing is to apply the secondary dimension. And you can do that by clicking the dropdown menu of the second dimension and then click on Source / Medium. This option is found under the Acquisition, but also on your search bar, you can type source/medium.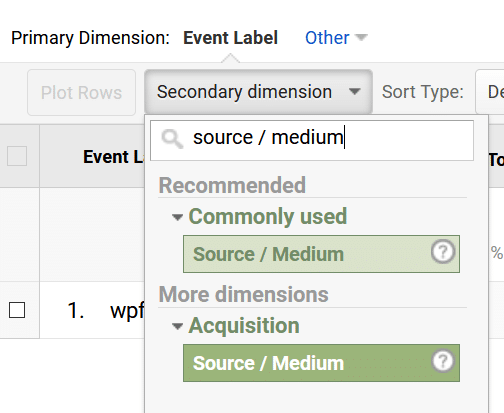 And this will provide you the sources of the visitors. This will include where the visitors completed the form.
You can take the game a notch higher by using the advanced filters. For instance, if you are interested in the traffic that your websites send to you, meaning referrals. You can utilize the advanced filters to show you only referrals' sources. You can do this by clicking the advance that is next to your search bar. And then select Include » Source / Medium » Containing. Lastly, in the last field, enter referrals. Now that you have entered, click Apply. And the filter will show you your prescribed sources.
How to track form conversions in the WPForms
WPForms is also another way that you can use to track your form conversion sources. This method records the route the visitors take before submitting a form to one's site. Meaning, WPForms uses User Journey Addon to document the journey of the visitors.
Here, you are required to install and activate WPForms' addon. But for you to access and view your reports easily, you need to subscribe to a Pro or Higher plan. Below is the process of installing WPForms Addons;
Go to your WPForms on the WordPress admin section, click Add-ons.
Go to the User Journey Addon, click Install Addon.
When the form becomes active, go WPForms » Entries and select the forum that you want to see that visitor's journey. Then scroll down the User Journey and see the individual's duration, time, date, and how many pages they viewed.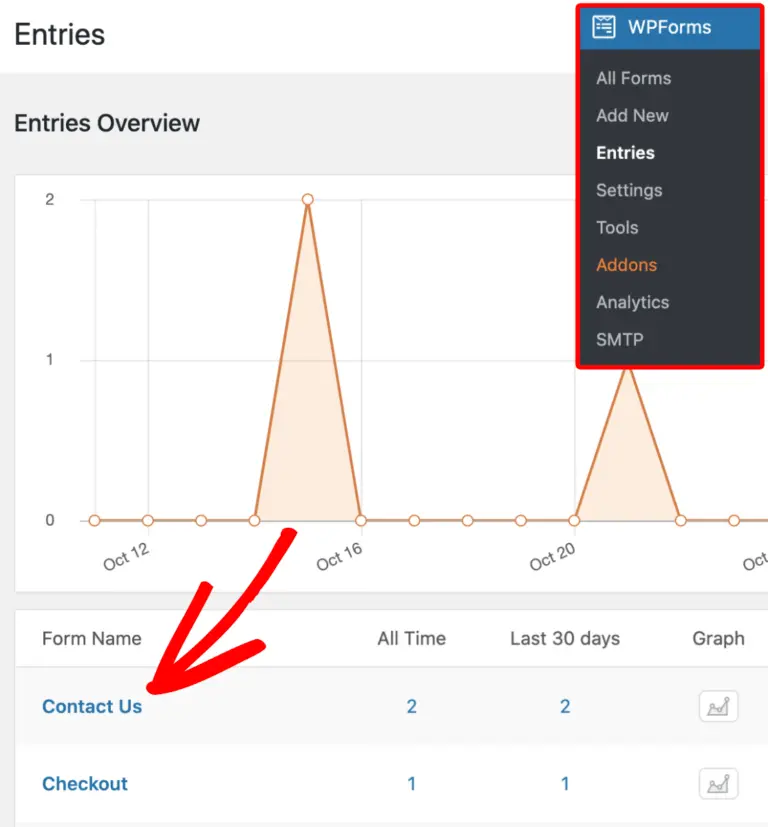 Final Thoughts
As a marketer, you need to take your game a notch higher to beat the fierce competition. Tracking the form conversion form is one of the crucial components. Knowing the number of visitors and how they behaved will make you have a rough idea of the clientele's needs and wants. Once you know the needs and wants aspect, you will improve the current strategy if it's not working or stick with it if it's working.
How to Track File Downloads in Google Analytics and Improve Marketing Strategies
Do you want to know the number of visitors that download your files from your website? If yes, think no further; MonsterInsights is the best bet. With Google Analytics, MonsterInsights can accurately track a site's file downloads.
Before diving into it let me tell you the benefits of tracking files' downloads,
Think of, are you offering any downloadable resources to your site's visitors? If so, you need to know whether the files are downloaded.
It should be noted that Google Analytics does not allow automatic tracking of file downloads. That is why it's necessary to have MonsterInsights.
But you might ask now, what are the benefits of tracking file downloads? They include;
Discovering the popularity of the downloadable resources
Discover whether you should offer more of the content or the entire exercise is a waste of your precious time.
You are saving your money and time by producing only the downloads that are appealing to your audience.
How to track your site's file downloads?
File Download Tracking with MonsterInsights
First things first, using MonsterInsights set Google Analytics in WordPress.
Once you have set up, the file downloading tracking automatically will be enabled, and instantly, they will start to track the events. But the good thing with the entire exercise is that you don't have to do any configurations; MonsterInsights will handle everything.
In Google Analytics, event tracking is used to measure users' interactions with the content, such as video plays, mobile and clicks, and downloads.
Utilize more file extensions in tracking your downloads
As mentioned above, MonsterInsights will let the site's owner track downloads by following multiple file extensions such as pdf, Xls, Docx, Xlsx, doc, zip, and others. But also, it's allowed to add more attachments to the track if you want.
To add the file extension in the MonsterInsights is very straightforward.
Just go to Insights, click settings. Next, at the top of the menu, select Engagement, and then scroll the menu down to the File Downloads.

How to View File Downloads in WordPress
As things stand, if you are following the process keenly, you already have the tracking in place. The next step is to view the report of your top downloads, and the following steps will make work easier for you;
First, Navigate to Insights » Report » Publishers Report.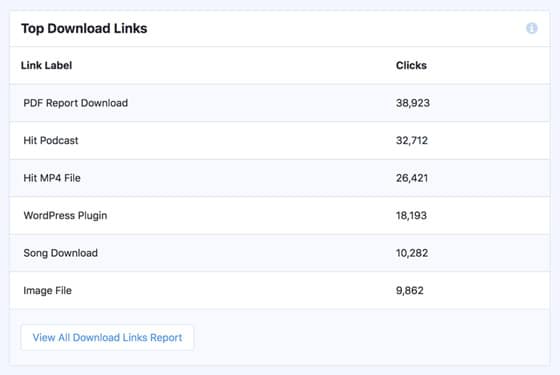 Next, to see the downloads, scroll down. The report will then provide you the most downloaded links from your site.
How can you view file downloads in Google Analytics?
For one to view file downloads, all that is required is to log into the Google Analytics account and then select the site where you would like to track the file downloads.
If for or instance, you are tracking your downloads as pageviews, you will find that all the download reports are in All Pages. And such kind of reports is accessed via navigating to Behaviour » Site Content » All Pages.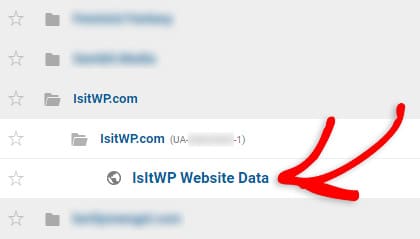 If the downloading tracking is enabled as events, you will see all your downloads' data in the event report. And these categories of the report can be accessed by navigating to Behavior » Events that are found at the left panel. Here you will come across the following four conditions;
Overview: This provides you with a summary of your data's top events.
Top Events: Here, you will be shown the list of the elements that keep your visitors glued to your sites.
Pages: this section will show you the list of pages where the downloadable resources are hosted.
Events Flow: the report will show you the events' flow; hence you will discover which events are more engaging to your visitors.
Read Next: Essential Blogging Tools for Beginners
Final thoughts
If this guide is followed appropriately, will automatically enable you to track your file downloads. Just read and then implement it. You're set to go.
If you have come to this point then I'm sure you have got to know about how important it is to track the leads and source of your site traffic. If you have the right data in your hand you can make the right decisions to grow your business online.
MonsterInsights can help you bring the right analytics and traffic data right into your WordPress dashboard. If you have not installed MonsterInsights yet, I highly recommend using the World's best Google Analytics plugin.