Forms are a vital part of any website. But with the different types of websites, not a single form layout would work similarly.
As a form for a freelancer site is completely different than a donation form for a charity website, forms for educational sites are different than forms of financial sites.
In this post, I'll discuss the best form builder for WordPress websites i.e. WPForms.
WPForms is a beginner-friendly website form builder with a great approach to fulfilling the requirements of advanced users.
Using WPForms to create forms is just a drag and drop thing which requires no coding or tech knowledge. This is the reason WPForms is known as the best form builder.
Also with tons of prebuilt templates, anyone can customize the template and create the forms according to their requirements.
5 reasons WPForms is the best form builder
1. Drag and Drop Form Builder
WPForms is a great tool to create forms for everyone because of its drag and drop form builder functionality.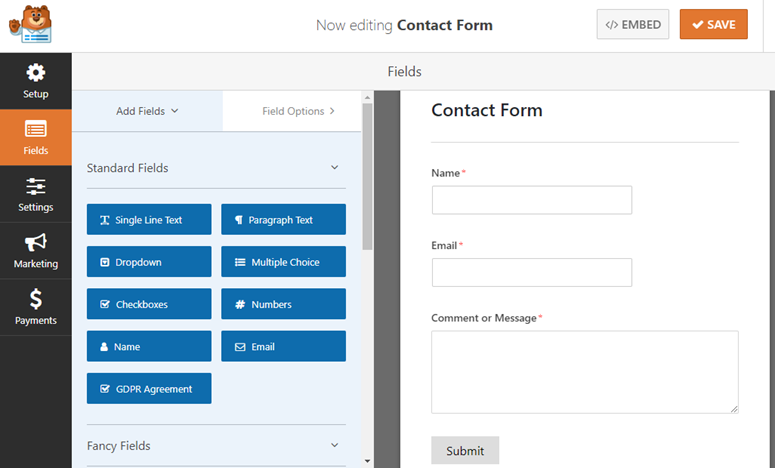 You can create any type of form within minutes and also you can add, remove, or change the place of any field of the form. You can also preview the changes without shifting the browser's tabs.
You no longer have need to hire any developer to build the forms for your website.
2. Insert your Forms throughout the site
With WPForms you can embed your forms within the WordPress editor.  Locate the "Add Forms" button just above the WordPress editor and choose the form from the box that appeared.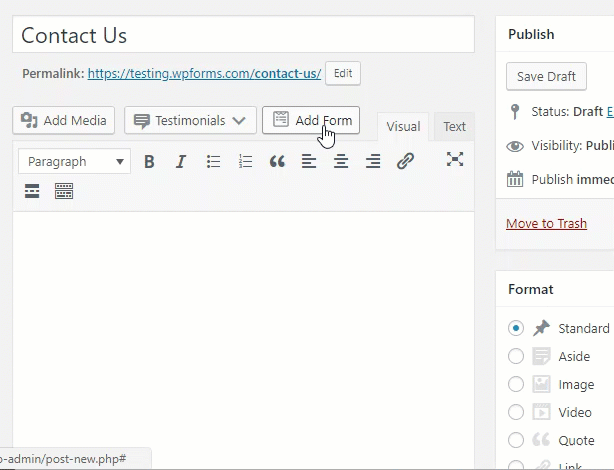 Also, you can just copy the shortcode to embed the form in the sidebar or footer with the help of widgets.
3. Cheaper Pricing plans
With all the awesome features and unique offerings, WPForms still managed to offer cheaper pricing plans. According to the business size and budget, there is a plan by WPForms to leverage the benefits of their features.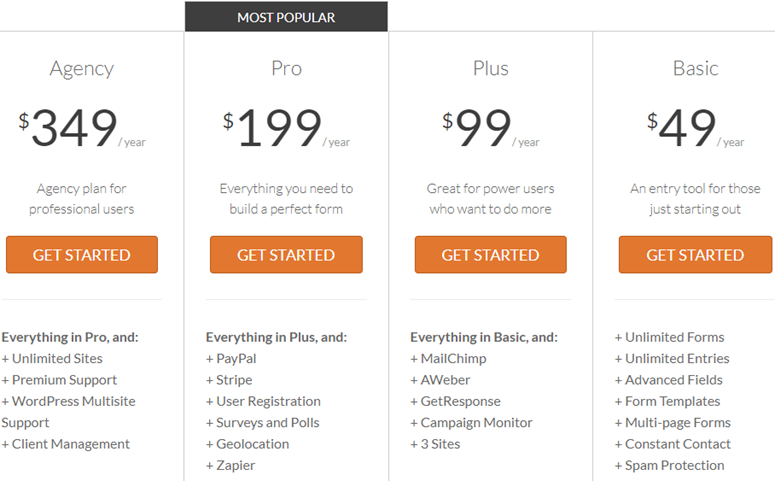 Their basic plan starts from $49/year makes the WPForms quite affordable for solopreneurs and bloggers too.
4. Payment collection feature
If you're running a membership site where you offer a monthly subscription and want to collect payments or you want to accept donations, WPForms has got you covered.
WPForms has 1-click payment gateway integration with PayPal and Stripe. You can easily collect the payments through any of the Payment Gateway.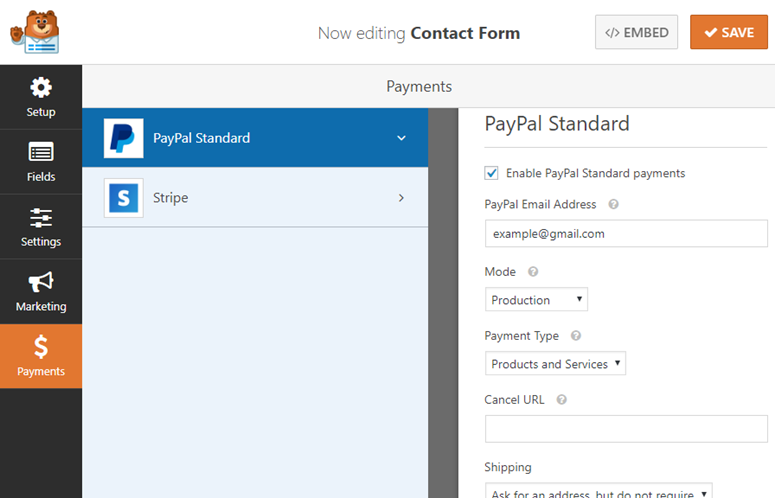 5. Tons of different templates for different businesses
WPForms offers tons of prebuilt form templates to create any type of form within minutes. Just find the right template and customize according to your business and publish it on your site. You're all set!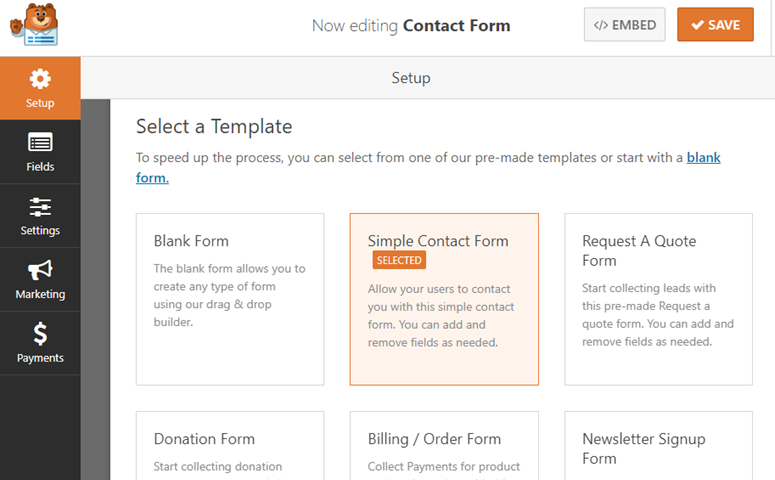 You have options such as:
Blank form: To create a form from scratch
Simple contact form
Request a quote form
Donation form
Billing/order form
Newsletter Signup form
Poll and survey form etc.
Using these templates will not only save your time but also saves you from forgetting any necessary field to plugin into your form.
Recommended: How to create conversational forms for WordPress
Thanks to the WPForms team.
Conclusion
Forms created with WPForms are highly supportive and SEO friendly. Also, the layout of the forms is mobile supportive which means these forms give your business an extra edge with the rising mobile industry.
With all the awesome features mentioned above, there are also tons of add ons available to integrate them with your forms which lets you spread your wings.
If you're a blogger, business owner, or marketer, you may need of creating multiple forms on your site.
And if you read this article to this point then you've surely realized that WPForms is the ultimate solution for creating forms that fulfill your needs.
I highly recommend sign up for the best form builder i.e. WPForms and start getting advantages of its features.