Forms are a vital part of any website. But with the different types of websites, not a single form layout would work similarly.
As a form for a freelancer site is completely different than a donation form for a charity website, forms for educational sites are different than forms of financial sites.
In this post, I'll discuss the best form builder for WordPress websites i.e. WPForms.
WPForms is a beginner-friendly website form builder with a great approach to fulfilling the requirements of advanced users. Using WPForms to create forms is just a drag and drop thing which requires no coding or tech knowledge.
This is the reason WPForms is known as the best form builder. Also with tons of prebuilt templates, anyone can customize the template and create the forms according to their requirements.
5 reasons WPForms is the best form builder
1. Drag and Drop Form Builder
WPForms is a great tool to create forms for everyone because of its drag and drop form builder functionality.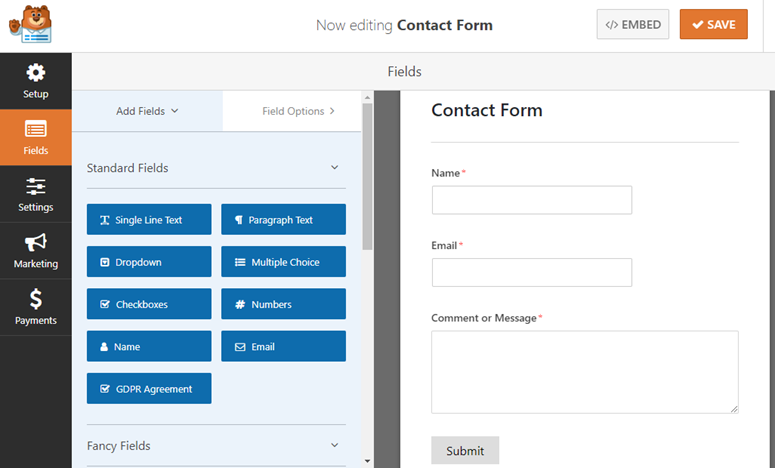 You can create any type of form within minutes and also you can add, remove, or change the place of any field of the form. You can also preview the changes without shifting the browser's tabs. You no longer have to need to hire any developer to build the forms for your website.
2. Insert your Forms throughout the site
With WPForms you can embed your forms within the WordPress editor.  Locate the "Add Forms" button just above the WordPress editor and choose the form from the box that appeared.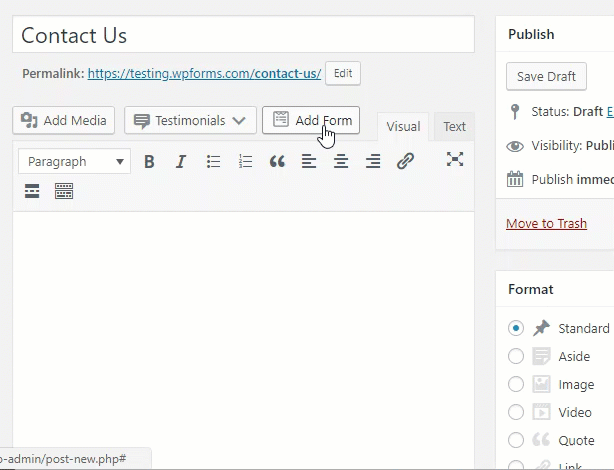 Also, you can just copy the shortcode to embed the form in the sidebar or footer with the help of widgets.
3. Cheaper Pricing plans
With all the awesome features and unique offerings, WPForms still managed to offer cheaper pricing plans. According to the business size and budget, there is a plan by WPForms to leverage the benefits of their features.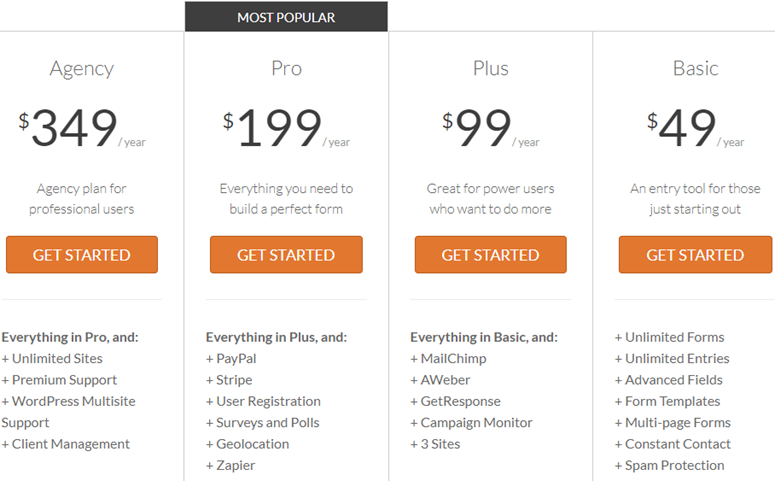 Their basic plan starts from $49/year makes the WPForms quite affordable for solopreneurs and bloggers too.
4. Payment collection feature
If you're running a membership site where you offer a monthly subscription and want to collect payments or you want to accept donations, WPForms has got you covered. WPForms has 1-click payment gateway integration with PayPal and Stripe. You can easily collect the payments through any of the Payment Gateway.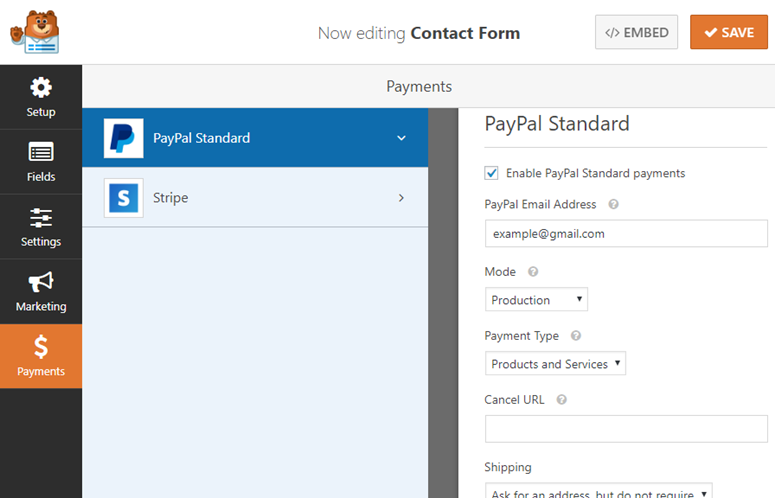 5. Tons of different templates for different businesses
WPForms offers tons of prebuilt form templates to create any type of form within minutes. Just find the right template and customize according to your business and publish it on your site. You're all set!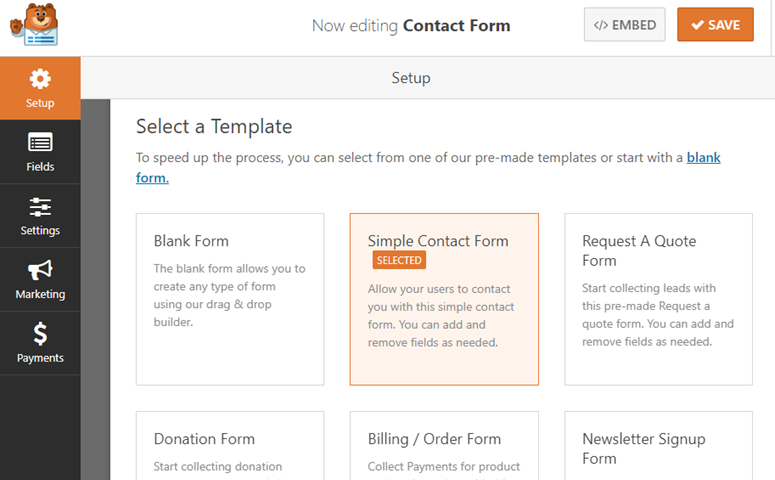 You have options such as:
Blank form: To create a form from scratch
Simple contact form
Request a quote form
Donation form
Billing/order form
Newsletter Signup form
Poll and survey form etc.
Using these templates will not only save your time but also saves you from forgetting any necessary field to plugin into your form.
Google's ReCaptcha? Check Out the Popular Alternative: hCaptcha
As a website or application owner are you looking to save a little extra cash and still keep your sites or apps forms secure?
Well, hCaptcha is the way forward; it acts like a bot detector similar to the captchas that users are used to when they asked to identify what they see in different images.
hCaptcha acts like a solution to an existing problem that makes machine intelligence better. It is the best alternate of reCAPTCHA as it offers enhanced performance when it comes to speed and solve rates.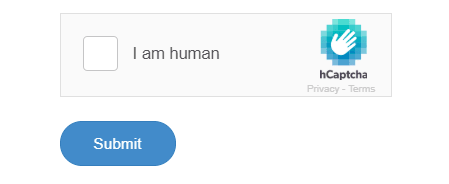 Why hCaptcha?
hCaptcha has taken a very different approach as it utilizes privacy-preserving machine learning methods to recognize typical bot behaviors accurately.
Notably, this happens when storing and consuming minimal data, unlike reCaptcha, which consumes a vast amount of behavioral data to identify if web users are humans or bots.
Google reCAPTCHA provides all your data back to Google. It acts to track the IP address of all your site visitors and ends up obtaining huge data. However, hCaptcha is designed with the intention of offering a privacy-friendly bot detector.
hCaptcha users report improved performance when it comes to privacy focus than reCAPTCHA, which tracks web users and tries to formulate their identity as needless to achieve good security.
Enhanced WPForms Security with hCaptcha
hCaptcha helps to keep your website free from spam and it's available to all users in WPForms v1.6.4. It is a more secure way that ensures your forms are well protected. hCaptcha acts as an additional layer of protection that utilizes advanced AI technology. It's an alternative to reCAPTCHA that emphasizes privacy.
hCaptcha offers users a smooth experience when submitting forms, which attracts many users to try out patiently, without complaints of clicking on images multiple times, which can be time-consuming.
Despite offering a seamless experience, as a business, you protect your forms from spam, bots, break-ins, and still maintain your information's privacy.
You can easily preview your CAPTCHA while still maintaining a professional look on your forms frontend and enjoying the no conflict mode and fail message features.
hCaptcha enhances the security method's clarity by ensuring the added options are extremely clear within the form builder. Hence, the form builder has a more detailed CAPTCHA button.
You will only see your right choice in the builder immediately after picking the CAPTCHA service. Hence, when your settings are activated, you can get into one of your forms and click the hCaptcha to view its setting.
We are proud to let you know of hCaptcha integration with WPFORMS with the hope of making the process of creating tailor-made smart contacts forms easier. hCaptcha has a new and improved email marketing integration that makes the user's work easier.
Speaking of having more options, hCaptcha has a brand-new email marketing integration. To meet users' demand of having more email marketing options. Hence, you can easily connect your forms to your email marketing service.
Why would you use hCaptcha?
The good thing about hCaptcha is that it uses trained machine learning algorithms to show users images from datasets from other companies that need images labeled for machine learning. T
his service is fantastic; it helps you and other companies at the same time, and websites can make money from the whole exchange.
It is designed to solve the machine labor exhaustive problem in machine learning in a reliable, affordable, and timely manner. hCaptcha is the way to go as it offers a strong solution for the visually impaired and other users experiencing difficulties when using it.
Most users get irritated by the frequency of CAPTCHAs hence hCaptcha resolved this by supporting Privacy Pass that reduces CAPTCHAs frequency. Also, countries, where Google is blocked, can easily enjoy security measures from hCaptcha. This makes hCaptcha to be the ReCAPTCHA alternative as it is also readily available.
Conclusion
If you aim to protect your website or applications efficiently from spammers, bots, and other malicious activities while preserving your user's data and still observing all the necessary regulations, consider hCaptcha. Remember, hCaptcha doesn't sell personal data and operates under transparency regarding the users' information they gather and disclose its use. If you want to start enjoying more advanced and reliable security measures, please contact us today to get hCaptcha.
How to Collect Paypal Payments on Your WordPress Site
Do you offer services or selling products and collecting payments outside of your website with a checkout link?
How tedious the task could be, I can feel.
There are digital marketers like you who want to collect payment on their WordPress website but with the lack of the right tools, it was hard to approach.
WinForms has realized this problem that occurs more than often and brought a great solution for digital marketers and business owners.
Now onwards if you have WpForms installed on your website then you can collect payment with their recently added PayPal add-on.
To get the benefit of their PayPal adds-on feature you must be a user of a WpForms Pro account/or higher.
If you want to check out, here is the special link to sign up for a WpForms Pro account.
Let's get into it,
Install the PayPal Addon and Create a Form
To install the PayPal add-on you must be using WpForms on your WordPress website.
So, make sure you have WpForms installed on your website. Now go to the WpForms dashboard then head over to PayPal add-on.
Now here Install and activate the PayPal add-on. Now to add PayPal to a form hope over to create a new form.
There are pre-designed templates you can use to create forms easily and add PayPal to them.
But Billing/Order form templates are most likely used to collect payments, these templates have preset Paypal add on installed.
Add PayPal Payments to Your Forms
Now your form is created and PayPal is also installed. Now it's time to activate PayPal on your form.
To do this go to Payment settings then PayPal Standards. Here check the box stating "Enable PayPal Standards Payment"
Now fill out the other required details such as email address (the one you want to receive payment), Mode, Payment type and Shipping Address, etc.
If you want to allow your buyers to send you custom notes regarding their purchase then you can uncheck the box at the bottom of the page.
There is one more additional feature included in the form settings i.e. "Enable Conditional Logic"
Set Up Conditional Logic for Payments (Optional Settings)
These settings come in handy when you want to allow your customers to pay either from PayPal or Stripe.
to enable this setting scroll down the form builder and check the box stating "Enable Conditional Logic"
When you check this box there will be some additional settings appear. Through which you can create conditions and rules to accept payments via PayPal.
Let me explain each option,
Process: Here you have to select what condition should happen between Process and Don't Process when the user moves ahead.
Select Field: Define the fiels according to your offering.
is: Choose the type of comparison you'd like to use (options include is, is not, empty, not empty, contains, does not contain, starts with, ends with, greater than, and less than).
Select Choice: Define the value to apply.
So, by applying the right conditional logic you can create payment collecting forms easily.
How to Connect WPForms Leads And Salesforce (CRM) Easily
Looking for a better way to streamline your WPForms leads with Salesforce CRM?
Then here I'm with good news today.
WPForms has recently launched a Salesforce add-on to send your form entries from your site to the Salesforce account easily.
WPForms uses Salesforce API integration which ensures the security and confidentiality of each leads transferred to the Salesforce accounts.
But to use this new addon you must have a WPForms Elite license.
This initiative by WPForms will change the way how you transfer the data and will save a lot of time manually copying and pasting customer information.
Create different Salesforce objects with WPForms
WPForms has introduced a number of features such as creating Salesforce objects automatically from your WordPress dashboard.
Just select the object (account, campaign, contact, etc) you want from the drop-down.
In this way, you can manage different types of leads, contacts, and entries separately in your Salesforce account without any manual work.
You can generate new leads from each submission or you can also use an internal form to create an object.
Now after choosing the right object you'll have to assign the WPForms field values to the Salesforce field values.
You can also use conditional logic to separate each or some entries from the rest of the ones.
This way you can manage each lead and offer them relevant and personalized products to maximize revenue and grow your business ultimately.
Integrate WordPress forms to Salesforce
With WPForms integration with Salesforce, you are free to connect any form to your Salesforce accounts.
Summary
Salesforce is a top-leading CRM that is trusted by some of the leading companies along with 150,000 small and big businesses.
WPForms is the best WordPress forms builder to collect and leads.
When it comes to manage and track the information of your customers and potential leads then the WPForms integration with Salesforce is the business savior.
You can directly pull all the leads and create your customer's account in your Salesforce dashboard so you can offer better services according to their interest.
This new Salesforce add-on by WPForms will help you thrive in your business.
Get started with WPForms Salesforce add-on asap.
Wrapping Up
So with WpForms, it's easy to create billing and donation forms and start collecting payment on your WordPress site.
I recommend when you finish creating a form please check whether the page is working perfectly and the payment transaction is happening or not. You must test it before publishing your form. So that you don't lose any potential payment.
You'll be notified when your customer makes a purchase with PayPal.
Hopefully, you have got to know about how to collect Paypal payments on your WordPress website.
If you don't have WpForms yet then you might be losing potential customers on your website. Click here to get WpForms now and start collecting payment on your WordPress website.
If you have any doubt Let me know in the comment section, I'll try to help you out.
Conclusion
Forms created with WPForms are highly supportive and SEO-friendly. Also, the layout of the forms is mobile supportive which means these forms give your business an extra edge with the rising mobile industry. With all the awesome features mentioned above, there are also tons of add ons available to integrate them with your forms which lets you spread your wings. If you're a blogger, business owner, or marketer, you may need of creating multiple forms on your site. And if you read this article to this point then you've surely realized that WPForms is the ultimate solution for creating forms that fulfill your needs. I highly recommend sign up for the best form builder i.e. WPForms and start getting advantages of its features.